Packaging Materials minimize shipping and storage damage.
Press Release Summary: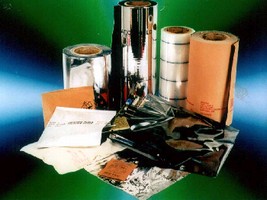 Barrier Packaging provides protection during shipment against corrosion, static electricity, and airborne contaminants that could adversely affect products. Materials are available with varying opacity levels, from pristine clarity for content verification to complete light blocking. Surfaces are printable and high slip for automated handling/packaging machinery tractability. Packaging materials meet commercial, government, and mil spec standards.
---
Original Press Release:

Right Wrap Minimizes Shipping and Storage Damage



A new line of barrier packaging materials being introduced by Protective Packaging Corporation protects many type products against a wide array of damaging effects.

Barrier packaging being introduced by Protective Packaging Corporation allows manufacturers longer-term shelf life and protection during shipment against corrosion, static electricity, and airborne contaminants that could adversely affect their products. This protection is provided by sealing the products within flexible packaging materials designed to protect exactly against whatever is the biggest risk for those particular products: static charges vs. electronic components, corrosion/oxidation vs. machined metal parts/military weapons/tools, mildew/mold vs. food products, wilting/drying vs. flowers/plants. The life of many product categories can be extended dramatically. Barrier packaging materials are available with widely varying opacity levels - from pristine clarity for easy content verification to complete light blocking. Surfaces are printable and high slip for ease of automated handling/ packaging machinery tractability.

Barrier protective packaging materials from Protective Packaging Corporation were conceived to meet a wide range of aerospace, agricultural, commercial, electronic, industrial, military and O.E.M. packaging challenges. Products such as aircraft parts, bearings, circuit boards, electrical apparatus, electronic components, firearms, gauges, meters, photographic equipment and other precision instrumentation may be enclosed. The materials are available to meet standard commercial, government and mil spec standards.

Protective Packaging Corporation (PPC) is one of the largest manufacturers of protective barrier packaging materials in the United States. As a US- based manufacturer, they can produce special design packaging on short notice as well as deliver from their broad lineup of standard stock products. They are a registered contractor with GSA (United States General Services Administration) and have been a manufacturer/converter of protective packaging materials for over 25 years. PPC's team of packaging engineers, using state-of-the-art equipment, has designed and manufactured flexible protective packaging for most of the major corporations in the world.

For further technical information, please contact:
Steve Hanna
Protective Packaging Corporation
1746 W. Crosby Road. Bldg. 108
Carrollton, Texas 75006
Tel. (800) 945-2247
E-mail: shanna@protectivepackaging.net
Website: www.protectivepackaging.net

More from Agricultural & Farming Products