Packaging Material protects fragile products of any shape.
Press Release Summary: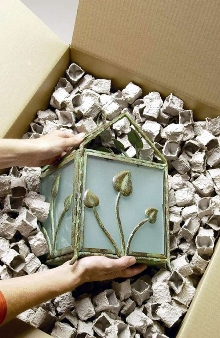 Made from 100% recycled paper fibers and water, Cushion Cubes provide packaging support for awkward and fragile products. Environmentally safe cubes compress under impact and have memory characteristics to maintain cushion. Functioning as blocking and bracing, cushioning, and/or void fill material, product also protects against leaks and spills. It dispenses like loose fill, but textured surface and contoured shape make them lock together for Tite-Fill(TM).
---
Original Press Release:

UFP Technologies Introduces Cushion Cubes Protective Packaging For Fragile Products And Products Of Any Shape


UFP Technologies, Inc., a leading manufacturer of custom engineered packaging materials, introduces its unique Cushion Cubes, cube-shaped protective packaging material made from 100% recycled paper fibers and water. Designed to provide superior packaging support for irregularly shaped and fragile products, Cushion Cubes are a high strength, superior alternative to chemical/foam packaging. UFP's Cushion Cubes are environmentally safe, simple to use, and easy to pack.

Their unique shape gives the Cushion Cubes superior energy absorbing properties. The cubes compress under impact, and have memory characteristics to maintain a cushion. This ability to compress and reset allows UFP's Cushion Cubes to continually protect a product through the repetitive drops, bumps and jolts of normal shipping and handling.

Cushion Cubes provide more efficient and simplified packaging design, because they conform to a product's shape, eliminating the need to redesign the package for each new product. With UFP's Cushion Cubes, there is no need to wrap a product or stuff the carton with several types of packaging materials since they can function as blocking and bracing, cushioning and/or void fill. Ultra-absorbent, the cubes not only provide a complete cushion for breakable containers, but also add an extra measure of protection against leaks and spills in transit which might result from improper handling.

Cushion Cubes dispense easily like loose fill, but their rugged, textured surface and contoured shape make them lock together, giving a Tite-Fill(TM). With this unique feature, Cushion Cubes produce low product migration and settling, locking safely around products and suspending them in the carton without special blocking, bracing or foam-in-place packaging.

The Cushion Cubes are ideal for shipping all types of products. Electronics, instruments, dials, gauges and other sensitive materials can be safely packed and protected. Irregularly shaped products such as lighting fixtures do not require a combination of materials to be securely packaged if they are nestled in Cushion Cubes. Fabricated and machined parts or assorted mail order products can be confidently packed without individual wrapping to isolate them from each other.

Cushion Cubes, made from 100% recycled paper fibers and water, are also 100% recyclable and can be re-used, recycled, composted or disposed of without concern. Easily dispensed, the cubes can be poured around the product in the shipping carton without requiring messy or hazardous dispensing equipment. The cubes, which are naturally anti-static, will not cling to products, people or clothing and do not produce toxic fumes. In addition to being an environmentally safe product, the cubes comply with international regulations that restrict the use of plastic packaging.

About UFP Technologies

Founded in 1963, UFP Technologies is an innovative designer and custom converter of foam, plastics and natural fiber products serving both the consumer and industrial markets. The company operates in North America with ten factories and three satellite facilities.

The company comprises two divisions:

· Engineered Packaging provides interior protective packaging solutions utilizing molded fiber, vacuum formed plastics, molded and fabricated foam plastic products to numerous markets including: computer electronics, medical/pharmaceutical, military, automotive and general industrial.

· Component Products designs and manufactures engineered component solutions utilizing laminating, molding and fabrication technologies, where we make the "product within the product". This division serves the automotive, beauty, medical, industrial and sports and leisure products markets.

For more information on its complete line of products and capabilities, contact Steve McLaughlin, UFP Technologies, 172 East Main Street, Georgetown, MA, 01833, (978) 352-2200 x. 7345 or visit ufptech.com or email info@ufpt.com.

More from Chemicals & Gases