Packaging Machinery Manufacturer Unveils Higher Speed Option on Automated Cotton Inserter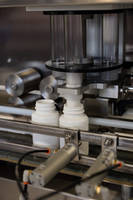 Deitz Company Speeds PharmafillTM CS2 Filling Rate by 12.5%
Wall, NJ: Packaging machinery manufacturer Deitz Co., Wall, NJ (www.Deitzco.com), has unveiled an optional higher speed configuration on its PharmafillTM CS2 automated cotton inserter that increases the filling rate to 90 inserts per minute from 80 inserts per minute versus its standard configuration, a 12.5 percent increase. Developed to help growing nutraceutical, pharmaceutical and contract packaging companies speed production without compromising insertion accuracy, the higher speed CS2 cotton inserter features short, three-inch long insertion tubes for a quick stroke that accommodates cotton pieces measuring from 2.0 - 5.5 inches in length.
The higher speed CS2 cottoner automatically separates cotton, rayon and polyester from a continuous coil into individual pieces of uniform length, inserts up to nine pieces through the clear tubes into the center of each bottle, then releases it downstream while advancing a new bottle for filling. The computer-controlled CS2 cottoning machine delivers the same 99.99 percent insertion accuracy in both the higher speed and standard configurations, and automatically stops the process if the cotton roll is ready for replacement or if no bottle is present.
The CS2 is one of three models in the company's line of automated cotton inserters. The Pharmafill CS1 cottoner offers an economical entry into automated filling while the PharmafillCS10 features dual filling heads to achieve even faster speeds of 180 containers per minute.
For more information, contact the sales staff
Deitz Co., Inc.
1750 Route 34, PO Box 1108, Wall, NJ 07719 USA
732.681.0200
Fax: 732.681.8468
www.deitzco.com
sales@deitzco.com
Related