Packaging is hermetic and radiation shielded.
Press Release Summary: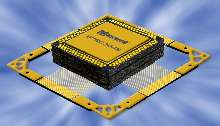 Rad-Stak(TM) vertically stacked packaging creates fully space-qualified components. Completely shielded, multi-level die package allows heat dissiplation through interconnects and lid/heat sink of each layer. Available in 132-pin and 68-pin outlines, packaging is applicable in multi-chip modules using identical die and true hybrids. Rad-Stak provides high-density, space-qualified SDRAM with flexible memory word-widths, and hybrid applications combining multiple functions.
---
Original Press Release:

Maxwell Technologies Introduces Rad-Stak(TM) As First Hermetic & Completely Radiation Shielded Die-Based Stack-Packaging For Space Components


New Packaging is First in the Industry to Use Vertical Stacking Technology for Components Such as Maxwell's Fully Space-Qualified High-Density SDRAM

SAN DIEGO, Calif. -- Maxwell Technologies, Inc. (Nasdaq: MXWL) today introduced Rad-Stak(TM), the company's newest, and the industry's first radiation shielding technology to utilize stacked packaging to create fully space-qualified components. Rad-Stak stacked packaging technology is specialized for providing high-density memory, and is subject to full MIL-STD-883 qualification and characterization.

Maxwell's Synchronous Dynamic Random Access Memory (SDRAM) -- the highest performance memory component available to the space market -- uses Rad-Stak technology, making it the first component to be hermetic and completely radiation shielded in a vertically stacked package. In addition to being the first component designed with Rad-Stak packaging, Maxwell's SDRAM is the first space-qualified and radiation characterized memory component that is not repackaged plastic components, but rather packaged bare die.

"Maxwell's new Rad-Stak packaging approach provides the space industry with commercial-equivalent stacking technology, combined with the guarantee of a space-qualified hermetic package," said Rich Balanson, Maxwell's president and CEO. "Rad-Stak is the latest innovation in a line of advanced components and technologies offered to the space community and driven by our strategy of guaranteed performance, guaranteed radiation tolerance, and guaranteed life-of-the-application availability."

Rad-Stak is a completely shielded multi-level die package, created out of the evolution of Maxwell's Rad-Pak® shielded packaging solution to vertical stacking. In this configuration, heat is effectively dissipated through the interconnects and the lid/heat sink of each layer. For greater flexibility of design, Maxwell offers Rad-Stak in both large and small, (132-pin and 68-pin) standard package outlines. The design also allows the packaging to be applicable in both multi-chip modules using identical die and true hybrids, and to be used across product lines.

Among the benefits to the space community, Rad-Stak provides a high-density space-qualified SDRAM with flexible memory word-widths (e.g. x32, x40 or x48), and hybrid applications combining multiple functions -- such as memory and EDAC. The vertical stacking provides both cost and weight savings, while offering a component with proven reliability and radiation shielding for commercial die.

"The new Rad-Stak packaging is yet another first-in-the-market for Maxwell's microelectronics product line, and another superior technology for space, which creates for the company additional market opportunities in high-performance memory solutions," said Chad Thibodeau, product manager for Maxwell's microelectronics product line. "With Rad-Stak we're providing the highest density memory available to the industry, and creating the opportunity to offer more complex hybrids or MCMs with more flexible product configurations, increasing the breadth of our product line."

Maxwell sells reliability. We develop, manufacture and market electronic components and systems that perform reliably for the life of the applications into which they are integrated. Our BoostCap® ultracapacitors and ultracapacitor-based energy storage systems uniquely address applications in transportation and consumer and industrial electronics. Our high-voltage grading and coupling capacitors are used in electric utility infrastructure and other applications involving transport, distribution and measurement of high voltage electrical energy. Our radiation-mitigated microelectronic products include power modules, memory modules and single board computers that primarily address applications in aerospace. For more information, please visit our website: www.maxwell.com.

Contacts:
Sales: Marty Lanning - tel: +1 (858) 503-3328; email: mlanning@maxwell.com
Technical: Chad Thibodeau - tel: +1 (858) 503-3307; email: cthibodeau@maxwell.com

More from Controls & Controllers