Package Test System targets medical device manufacturers.
Press Release Summary: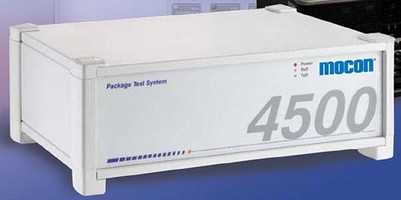 Lippke(TM) 4000 Series is designed to perform leak and seal strength tests on flexible, rigid, and porous materials while simultaneously assessing package ability to seal contents against contamination. Using self-adhesive septum, system conducts tests at 3 pressure levels and includes flow booster technology. Available as standalone unit (Model 4000) or PC-operated, bench-top unit (Model 4500), reproducible test results are meet ASTM Standards F2054/1140/2095 and ISO Standard 11607.
---
Original Press Release:

MOCON Launches New LIPPKE 4000 Series Package Test Systems To Medical Device, Lab Users



Minneapolis, MN (January 8, 2008) - A new generation of Package Test Systems, which targets medical device manufacturers and quality assurance labs, is now available from MOCON, Inc. (NASDAQ: MOCO). The feature-rich Lippke(TM) 4000 Series is designed to perform a variety of leak and seal strength tests on flexible, rigid and porous materials. (The Model 4000 is standalone and the Model 4500 is a PC-operated, bench-top unit.)

The Mocon Lippke(TM) 4000 Series is the next generation in a line of positive pressure medical device packaging test systems designed to measure the strength of the package's seals and material while simultaneously assessing the package's ability to seal its contents against atmospheric contamination. The 4000 Series provides precise, accurate and reproducible test results consistent with ASTM Standards F2054, F1140, F2095 and ISO Standard 11607.

The 4000 Series conducts tests at three different pressure levels, allowing package assessment under a range of conditions. (Typical instrumentation is configured to perform at only one pressure level.)

To perform the ASTM F2095 Pressure Loss Test for package leaks, a self-adhesive septum is used to insure that there is a hermetic seal selected for the injection of air. After mounting the package onto the needle-head assembly, the pressure builds up in the package until it reaches a pre-selected level. It is then held at a constant level for the required settling time. During the final test phase, the system accurately measures the pressure to detect the slightest amount of loss and displays the corresponding value.

To conduct seal strength testing, the septum also is applied to the package and mounted onto the needle head assembly. The package is then subjected to increasing pressure until it bursts. The burst pressure of the package is proportional to its seal strength. (Burst tests of porous materials, such as Tyvek® is also possible and a fixture to test open packages is available, as well.)

The Lippke(TM) 4000 Series now includes flow booster technology as a standard feature. This insures that the required volume of gas necessary to perform a test is available when you need it.

Additionally, the Lippke(TM) 4000 Series offers several features that are typically custom or not available at all on competitive units. Examples include electronic pressure and flow controls which provide greater precision and accuracy in performing leak and burst tests. Other features include custom package fixtures, eight test-mode capability and the Advanced Leak Test option which provides an absolute hole-size measurement. This enables researchers to relate hermetic-seal performance to research being conducted on microbial ingress standards.

Finally, the 4000 Series instruments are efficient when it comes to power consumption. The energy saver feature reduces power consumption by 50% when the instrument is in stand-by mode making it the smart choice to support corporate sustainability programs.

The 4000 Series is of special interest to manufacturers of medical device packaging. The units offer an array of test method templates, validations and certified calibration products and services. This insures a fast and cost-effective means of incorporating these units into the quality function in accordance with regulatory mandates. The 4000 Series complies with ISO-11607 Standards, and the Model 4000 meets FDA CFR 21, Part 11 Guidelines.

MOCON is a leading provider of instrumentation and consulting and laboratory services to medical, pharmaceutical, food and other industries worldwide. See www.mocon.com for more information.


More from Test & Measurement