P600 Planetary Axle features anti-lock brakes.
Press Release Summary: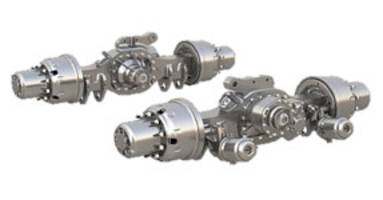 Designed to operate in extreme conditions, P600 Planetary Axle provide 126,000 lb gross axle weight ratio and 560,000 lb gross combination weight. Delivering wide coverage ratio, units can be equipped with optional driver controlled differential lock and hardware central tire inflation systems.
---
Original Press Release:
Meritor® Announces P600 Series Tridem Heavy-Haul Planetary Axle for Severe-Duty Applications
Meritor's Aggressive Off-Highway Growth Plans Include Additional Product Launches
Meritor, Inc. (NYSE:MTOR) today announced at CONEXPO-CON/AGG 2017 the introduction of its new P600 Series Tridem Heavy-Haul Planetary Axle for heavy-duty, long-haul, oil field, mining and logging applications. Full production begins in June.
"The new tridem is the next-generation axle from our award-winning P600 series and one of many new products Meritor will bring to market during the next three years as part of the company's M2019 growth initiative," said Steve Luepke, director, Off-Highway, for Meritor. "Reduced lead time, aftermarket parts and support and continued investment and innovation differentiate us in this market and support our strategy to be an industry leader."
As with previous P600 products, the tridem was developed for global markets and validated in Meritor's world-class technical center in Troy, Michigan. Full production of the P600 tridem begins this summer at the company's Laurinburg, North Carolina plant.
"Our state-of-the-art manufacturing and assembly system ensures the quality our customers expect for severe-duty applications," Luepke said. "When paired with the Meritor Permalube™ RPL Series driveline, the P600 Tridem is the industry's toughest solution."
Built to operate in extreme conditions, the P600 Tridem is compatible with industry-leading suspension options and offers a best-in-class gross axle weight rating (GAWR) of 126,000 pounds and gross combination weight of 560,000 pounds. Meritor's new proportioning inter-axle differential delivers even torque split between the three axles for improved traction, maximum load capacity and increased longevity of the drivetrain.
The P600 Tridem's wide ratio coverage and standard anti-lock brakes deliver optimum safety and performance in the most extreme conditions. When equipped with the optional driver-controlled differential lock and hardware for central tire inflation systems (CTIS), the P600 has the premium features required for the most demanding applications. All P600 axles are designed for durability and supported by Meritor's DriveForce service and support team.
For more information on the P600 tridem axle or other Meritor Off-Highway products, please visit www.meritor.com.
About Meritor
Meritor, Inc. is a leading global supplier of drivetrain, mobility, braking and aftermarket solutions for commercial vehicle and industrial markets. With more than a 100-year legacy of providing innovative products that offer superior performance, efficiency and reliability, the company serves commercial truck, trailer, off-highway, defense, specialty and aftermarket customers around the world. Meritor is based in Troy, Mich., United States, and is made up of approximately 8,000 diverse employees who apply their knowledge and skills in manufacturing facilities, engineering centers, joint ventures, distribution centers and global offices in 18 countries. Meritor common stock is traded on the New York Stock Exchange under the ticker symbol MTOR. For important information, visit the company's website at www.meritor.com.
SOURCE Meritor, Inc.
CONTACT: Media Inquiries:
Ryan Obert,
(248) 435-1701,
Investor Inquiries:
Carl Anderson,
(248) 435-1588,
Web Site: http://www.meritor.com
More from Software