P2PE POI Miura M010 Device is suitable for healthcare organizations.
Press Release Summary: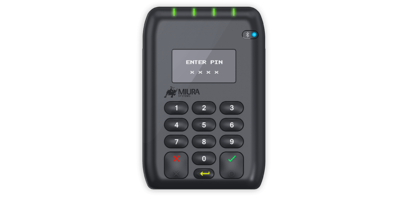 Point-to-Point Encryption POI Miura M010 Device provides mobile, counter-top and in-store options. Unit accepts Visa, MasterCard, Maestro and VPay card present transactions. Product is suitable for retailers, enterprises and higher education applications. Device is offered with Decryptx solution.
---
Original Press Release:
Bluefin Introduces the Miura Systems M010 PCI-validated Point-to-Point Encryption (P2PE)
The Miura M010 for Mobile and Counter-Top payments brings the security of PCI P2PE to retailers, enterprises, healthcare organizations and higher education through Bluefin's Decryptx® solution
Bluefin Payment Systems, the leading provider of PCI-validated Point-to-Point Encryption (P2PE) solutions today announced the availability of the PCI PTS-approved P2PE POI Miura Systems Ltd (Miura) M010 device through Decryptx®, Bluefin's Decryption as a Service (DaaS) solution.
Miura is a leading provider of innovative, secure electronic payment hardware. The company provides simple, secure and flexible payment devices that meet the demanding needs required for today's retail environments, regardless of size or dynamic of the point of sale environment. The contactless Miura M010 offers mobile, counter-top and in-store options to transform the retail experience and provide merchants cost effective flexibility to transform the way they service their customers.
The Miura platform not only delivers real-world flexibility for merchants but it delivers this with the highest levels of security, ensuring merchants of all sizes are provided with the reassurance that they are protected. The PCI-validated P2PE device supports Visa, MasterCard, Maestro and VPay card present transactions using EMV or swipe.
The Miura M010 is available through Bluefin's Decryptx solution, which allows gateways, applications, and processors to directly connect to Bluefin for the P2PE service.
"We wanted to add another global mobile device to satisfy the needs of our Decryptx partners and merchants. Mobile continues to grow exponentially and we are being asked for a variety of multiple mobile / EMV / PCI-validated P2PE devices," said Greg Cornwell, SVP, Security Solutions. "Miura's M010 is a sleek device that can be used in a variety of locations, whether in the retail store or at a concert. We are excited to bring the capabilities of this device to our partners."
As of September 20th, the Identity Theft Resource Center (ITRC) reported 1,002 U.S. data breaches compromising 163 million records. This staggering number underscores the continued need for technologies such as P2PE to encrypt sensitive payment card data.
"Miura is proud to be partnering with Bluefin, who is a trusted leader in this space. Together we believe we can finally provide retailers with solutions that no longer require them to compromise their need for a seamless customer experience whilst delivering the highest possible security," stated Darren Shaw, Chief Product Officer.
About Bluefin Payment Systems
Bluefin Payment Systems is the leading provider of secure payment technology for enterprises and small to medium-sized businesses worldwide. Bluefin specializes in PCI-validated Point-to-Point Encryption (P2PE) integrated and stand-alone solutions for retail, mobile, call center and kiosk/unattended environments, and secure Ecommerce technologies including transparent redirect and tokenization. Bluefin is a Participating Organization (PO) of the PCI Security Standards Council (SSC) and is headquartered in Atlanta, with offices in New York, Chicago, Tulsa and Waterford, Ireland. For more information please visit http://www.bluefin.com/.
About Miura Systems
Miura Systems is the global leading provider of innovative secure electronic payment hardware to the mPOS solution marketplace. Miura partners with Independent Software Vendors and Systems Integrators to deliver platforms, expertise and services to enable retailers and acquirers to provide rich and flexible payment solutions for retail, hospitality, financial and transportation markets globally. For more information please visit: http://www.Miurasystems.com.
Related