P-F Weld & Work Clamp Makes Impossible Pulls Possible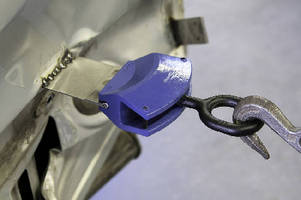 WEST BOYLSTON, MA - Porter-Ferguson's Weld & Work(TM) Multi-Angle Swiveling Clamp makes it easy for auto body technicians to clamp or hold difficult pulls - even those previously thought impossible.

The Weld & Work Clamp is a two-part assembly consisting of a body and a heat-treated forged alloy steel pull ring. The ring moves freely in the body's contoured dovetail channel allowing in-line pulls from almost any angle. Because the ring also swivels in the channel, chain twisting is greatly minimized. The clamp's body is made of austempered ductile cast iron and delivers greater wear resistance and more than double the strength of conventional, more expensive clamps.

Six reusable plates are included: two each of 1", 1½", and 3". Additional plates are available separately.

To use the tool, tack weld a plate to the work area, slide on the clamp, and make your pull. Just weld and work.

The Weld & Work Clamp has a capacity of 3 tons (2.7t), is 9" (229mm) long, and weighs 3¼ lbs. (1.5kg). It is 100% made in USA and comes with a lifetime warranty against defects in material and workmanship, subject to normal usage, wear and tear.

Porter-Ferguson is a division of Lowell Corporation. For more information about the P-F Weld & Work Clamp, or for a full-line catalog on either P-F or Lowell tools, call 800/456-9355 or 508/835-2900, email: customerservice@lowellcorp.com or visit the parent company's website, www.lowellcorp.com.

More from Materials