Oxygenator generates 93% (± 3%) pure oxygen.
Press Release Summary: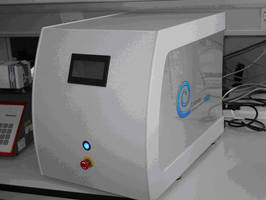 Suited for cell culture systems, Oxygenator separates oxygen from compressed air by pressurized adsorption process utilizing molecular sieves, which adsorb nitrogen and allow remaining oxygen to pass through system as product gas. Standalone unit can be hooked up to any general system requiring oxygen gas input, such as chemistry and life science related applications, for military use, and in hospitals. Units can be ordered to provide oxygen at 0.5, 4, 8, and 10 Lpm.
---
Original Press Release:

Cellexus Limited Launches the Cellexus Oxygenator - a New, Self-Contained Oxygen Generator for General Laboratory Use, Including Cell Culture Applications



Cellexus Limited, 'The Cell Company', is delighted to announce the launch of the Cellexus Oxygenator, a standalone module that takes in air and concentrates the oxygen component to generate a stream of 93% (± 3%) pure oxygen. The device can be hooked up to any general system requiring oxygen gas input in, for example, chemistry and life science related applications, for military use and in hospitals. Cell culture systems are a prime example of devices that may benefit from these oxygen generation facilities to improve cell culture growth.

The Cellexus Oxygenator is designed to separate oxygen from compressed air by a pressurised adsorption process using molecular sieves which adsorb nitrogen allowing the remaining oxygen to pass though the system as the product gas. We can make units available which provide oxygen at 0.5, 4, 8 and 10 litres / minute. Additionally we can offer a custom build service for systems producing up to 1 tonne of oxygen per day for specific applications as well as higher capacity and process-scale requirements. The systems eliminate the need to purchase external bottled gas providing significant cost savings. Additionally, the Oxygenator removes the potential manual handling and additional safety risks associated with using bottled gas.

Mr Bob Cumming, the General Manager of Cellexus Limited, stated "We are delighted to be adding the Cellexus Oxygenator to our product portfolio. It complements our CellMaker Regular single-use bioreactor system, launched in October 2008 for bacterial and yeast cell culture, which has a 4 litre / minute oxygen concentrator 'built in' and is illustrative of our commitment to developing a range of peripheral products.. We are very committed to a programme of product development to meet our customers' needs and will be launching a range of other products in the coming months, including the CellMaker PLUS(TM) for culturing most cell types including mammalian and insect cell lines."

About Cellexus Limited

Cellexus Limited provides a range of instruments and value added consumables to help researchers in the biopharmaceutical industry and academia develop new biopharmaceutical products from cell lines. Biopharmaceuticals are a rapidly evolving range of therapeutics generated by culturing cells in bioreactors and include proteins, antibodies or vaccines, with the possible of future medical treatments offered by stem cell research also falling into this category. Sales of biopharmaceuticals reached US$60 billion in 2005 and are growing at 20% per year.

The Company's core technology is at the centre of a range of different product configurations and formats the Company offers that can be used for production of biological cells and proteins in a single-use bag format. This same configuration can also be used in biopharmaceutical manufacture for mixing various materials under clean and sterile conditions. These product range offer significant technological improvements for cell culture and cell growth to the biopharmaceutical industry.

The single-use (consumable) elements of the CellMaker bioreactors the Company markets are the CellexusBag(TM) and HybridBag. These single use self contained bags form a product range (there are currently six variants of the CellexusBag(TM) and two variants of the HybridBag) which are manufactured under clean room conditions and to the ISO standards required by the biopharmaceutical industry. The bioreactor products come with built-in chiller units and an oxygen generator, which removes the need for piped gas. The gentle flow of gas bubbles mixes the contents and the bag design reduces foaming. The CellMaker equipment used to manage the cell culture process is very simple, efficient and inexpensive to use. A patent protecting the Company's Intellectual Property in this area was filed in December 2005 with a second patent application filed in June 2007.