Oxygen Permeation Tester offers fully automated operation.
Press Release Summary: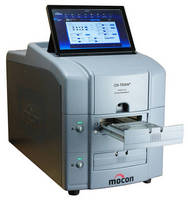 OX-TRAN® Model 2/22 H can carry out oxygen transmission rate testing on all types of barrier materials. Set via integrated touchscreen, automation features include RH, temperature, pressure, flow, and testing. When testing film with unknown characteristics, auto test feature determines optimal parameters and conducts test. Connectivity options enable remote viewing/control, and sequential testing allows film to be tested at multiple temperature/RH conditions without operator involvement.
---
Original Press Release:

MOCON Introduces Next Generation Oxygen Permeation Test System with Significant New Benefits Including Reduced Test Times



Minneapolis — MOCON, Inc. (NASDAQ: MOCO), the world's leading manufacturer of permeation instrumentation, has developed a new instrument which redefines oxygen transmission rate testing for all types of barrier materials.



The new instrument is ideal for food, pharmaceutical, medical device and material producers who need to test packaging structures for oxygen permeation.



The new OX-TRAN® Model 2/22 H is a fully automated and extremely user-friendly system.  With MOCON's advanced technology and design enhancements, test times are reduced significantly depending on barrier quality.  In addition, the repeatability specification has been improved 2.5 times over the industry standard OX-TRAN Model 2/21 H.



Automation features include relative humidity, temperature, pressure, flow and testing which are simply set via the integrated and intuitive touch screen.  Remote viewing and control from anywhere in the world is possible with the connectivity options. When testing film with unknown characteristics, the auto test feature determines the optimal parameters and conducts the test to completion.  Sequential testing allows for a film to be tested at multiple temperature/relative humidity conditions with no operator involvement.



The OX-TRAN Model 2/22 H is designed to operate at a lower cost of ownership by eliminating several common maintenance costs. The install wizard allows for step-by-step user installation and the gas saver feature automatically reduces gas consumption when the system is idle.  In addition, many safety features have been added to increase component lifetime.



"It is very difficult to accurately measure the trace amounts of oxygen transmitting through today's packaging materials.  We believe the design of the OX-TRAN Model 2/22 H will go above and beyond the expectations of our customers, providing the high quality results they have come to rely on from MOCON," said Doug Lindemann, vice president, MOCON.



The new OX-TRAN Model 2/22 H will be available for demonstration at Interpack, May 8-14, Dusseldorf, Germany, Hall 5 Stand J03.



About MOCON

MOCON is a leading provider of instrumentation and consulting and laboratory services to medical, pharmaceutical, food and other industries worldwide.  See www.mocon.com for more information.



Contact info:

Guy Wray

MOCON, Inc.

7500 Mendelssohn Ave. North

Minneapolis, MN 55428 U.S.A.

Phone: (763) 493-7228

Email: gwray@mocon.com

More from Electronic Components & Devices