Oxygen Permeation Analyzer targets high-barrier applications.
Press Release Summary: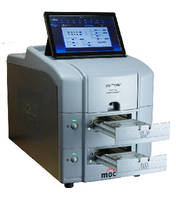 Engineered to measure oxygen transmission rates for high-barrier materials and packages, OX-TRAN® Model 2/22 L is suited for food, pharmaceutical, medical device, and resin producers who want to push shelf life envelope. Barrier films can be accurately measured down to 0.005 cc/(m2 • day). Automation features include RH, temperature, pressure, flow, and testing. When testing film with unknown characteristics, auto test feature determines optimal parameters and conducts test to completion.
---
Original Press Release:

New Mocon Oxygen Permeation Analyzer Targets High-Barrier Applications Pushing the Shelf-Life Envelope



Minneapolis – MOCON, Inc. (NASDAQ: MOCO), a leading international provider of instruments and services for testing, measuring and analyzing invisible gases, has once again improved the ability to measure oxygen transmission rates (OTR).



MOCON's new OX-TRAN® Model 2/22 L has been specifically engineered to accurately and quickly measure OTR for wide range of high-barrier materials and packages. It is ideally-suited for food, pharmaceutical, medical device, film converters and resin producers who want to push the shelf life envelope by reducing oxygen permeation of packages.



With MOCON's advanced technology and design enhancements, test times are reduced significantly depending on barrier levels.  In addition, the repeatability specification has been improved 2.5 times over the industry-standard OX-TRAN Model 2/21 L.



"By obtaining more precise data about oxygen transmission through packaging materials, companies will be better able to predict, and in some cases, extend their product shelf life.  The information also will be a useful in helping to manage material costs vs. shelf life expectations," said Karsten Kejlhof, vice president sales and marketing, package testing and permeation, MOCON.



The OX-TRAN Model 2/22 L is designed to operate at a lower cost of ownership by eliminating several common maintenance expenses. The install wizard allows for step-by-step user installation and the gas-saver feature automatically reduces consumption when the system is idle.  In addition, many safety features have been added to increase component lifetime.



Barrier films can be accurately and repeatably measured down to 0.005 cc/(m2 • day) at precise temperature and relative humidity conditions. This is ten times more sensitive than the company's previously introduced Model 2/22 H.



Automation features include relative humidity (RH), temperature, pressure, flow and testing. These easily are set via the integrated, intuitive touch screen which enables new operators to accurately execute with as little as 10 minutes of training.  When testing film with unknown characteristics, the auto test feature determines the optimal parameters and conducts the test to completion. Remote viewing and control from anywhere in the world is possible with the connectivity options.



Automatic sequential testing, which is only available on the OX-TRAN Model 2/22 family of instruments, benefits R&D situations where film testing capabilities at various RH and temperature levels are desirable. This feature allows the operator to establish up to 10 different RH and temperature conditions in a single test set-up, and then automatically run all tests without further operator input.



Companies that change from wet to dry testing also will benefit because conditions now can be altered with a simple click.  Overall setup and testing times will be reduced because operators no longer need to empty the reservoir nor wait for the system to dry.



About MOCON

MOCON provides the world's most comprehensive range of premium instruments and services in four business areas: permeation, package testing, industrial analyzers and microbial detection. MOCON also provides consulting and laboratory services. For more information visit www.mocon.com.



Contact info:

Guy Wray                                                                                          

MOCON, Inc.                                                                        

7500 Mendelssohn Ave. North                      

Minneapolis, MN 55428 U.S.A.                                 

Phone: (763) 493-7228                                 

Email: gwray@mocon.com

More from Software