Oxygen Analyzer offers Modbus digital communications.
Press Release Summary: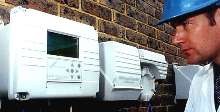 Model 2200 oxygen analyzer consists of paramagnetic oxygen measurement transmitter and separate microprocessor-based control unit. Control unit accepts inputs from up to 6 transmitters for oxidation control and process oxygen measurement requirements. It provides digital data communications to mainframe production control computers and can establish master-slave/client-server communication between intelligent devices.
---
Original Press Release:

Servomex 2200 Gas Analyzer Is Now Available with Modbus Digital Communications


Just announced by Servomex Group is the availability of Modbus digital communications on the company's successful 2200 oxygen analyzer. Servomex recently announced its largest ever single order when Lyondell Chemie Nederland B.V., based in Rotterdam, bought forty-eight 2200 paramagnetic oxygen transmitters.

The 2200 analyzer consists of a paramagnetic oxygen measurement transmitter and a separate microprocessor-based control unit capable of accepting inputs from up to six transmitters for a wide range of oxidation control and other process oxygen measurement requirements. Launched as a complimentary product to the extremely successful Servomex 1100A oxygen analyzer, the 2200 provides digital data communications to mainframe production control computers and offers all the key features needed by current and projected process plant technology.

The addition of Modbus interface capability gives the 2200 a much wider range of digital communications capabilities. The Modbus protocol is used to establish master-slave/client-server communication between intelligent devices and is the most widely used network protocol in the industrial manufacturing environment. Modbus can be used to monitor and program devices and to monitor field devices using PCs and HMIs. The addition of Modbus capability makes it possible for Servomex 2200 oxygen analyzer to be routinely interrogated by production or health and safety computer control systems.

The transmitter is certified for use in zone 1 / division 1 hazardous areas with a choice of control units suitable for either zone 1 / division 1 or zone 2 / division 2 areas. The instrument can be used with flammable gas samples, including hydrogen.

Other important features of the 2200 paramagnetic oxygen measurement transmitter include an intrinsically safe 4-20 mA output with inputs for external pressure compensation and background gas cross interference compensation as standard. Specific inputs are available for use with external flow alarms with intrinsically safe supplies for inductive proximity/ring sensors (complying with BS EN 50227, DIN 19234 and NAMUR requirements) and NAMUR status relays are available as standard. Options include internal pressure compensation and the ability to handle sample flow rates of up to 1.0 ltr/min.

Key features of the xendos 2200 control unit include autocalibration functions that can be used in conjunction with either optional relays or data communications. There is also an enhanced 'intuitive' user interface, which makes the analyser easier to set up and use in any of three languages (English, French and German).

More information is available from servomex.com/2200 or email info@servomex.com.

Frank Chester, Camperdown Agency, 34 Elm Street, Norton, MA 02766. Telephone: 508-243-6180. Fax: 508-285-4251
email: chester@tmlp.com

More from Cleaning Products & Equipment