Oxford Instruments Asylum Research Announces Nanoelectrical and Environmental Control Accessories for Jupiter XR Large-Sample AFM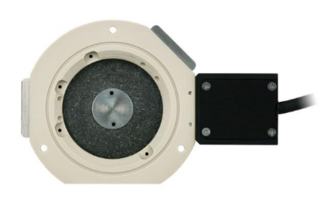 March 19, 2020 (Santa Barbara, CA) Oxford Instruments Asylum Research announces the release of accessories enabling environmental control and nanoelectrical measurements on the Jupiter XR large-sample atomic force microscope (AFM).The accessories include the PolyHeater, for heating samples up to 300°C, the CoolerHeater, with a cooling/heating range of -30 to 120°C, a fluid cell and probe holder for imaging in liquid, and conductive AFM probe holders for nanoelectrical measurements.
"Many research fields require environmental control, for instance, to mimic real-life conditions or to explore thermal properties. Similarly, nanoelectrical measurements are crucial to fields including semiconductor materials, 2D materials, and other functional materials. These new accessories for Jupiter XR enable even wider experimental possibilities for multi-user, multi-disciplinary laboratories" said Dr. Marta Kocun, Product Manager at Asylum Research.
Jupiter XR features a fully-addressable 200 mm sample chuck, simple and intuitive software control of system setup including laser and detector alignment, automated optimization of imaging parameters, automated multi-site imaging and analysis, and Asylum Research's unique blueDrive tapping mode for improved tip lifetime and measurement repeatability. It is also the world's most versatile large-sample AFM, incorporating Asylum Research's extraordinary range of capabilities and accessories and a modular design that supports future expansion. The Jupiter XR is the ideal research platform for research environments, high-throughput industrial applications and failure analysis labs. No matter the application, no other large-stage AFM can match Jupiter's ease of use, speed, performance and flexibility.
For more information see https://afm.oxinst.com/JupiterXR
About Oxford Instruments Asylum Research
Oxford Instruments Asylum Research is the technology leader in atomic force microscopy for both materials and bioscience research. Asylum Research AFMs are widely used by both academic and industrial researchers for characterizing samples from diverse fields spanning material science, polymers, thin films, energy research, and biophysics. In addition to routine imaging of sample topography and roughness, Asylum Research AFMs also offer unmatched resolution and quantitative measurement capability for nanoelectrical, nanomechanical and electromechanical characterization. Recent advances have made these measurements far simpler and more automated for increased consistency and productivity. Its Cypher™, MFP-3D™, and Jupiter™ AFM product lines span a wide range of performance and budgets. Asylum Research also offers a comprehensive selection of AFM probes, accessories, and consumables. Sales, applications and service offices are located in the United States, Germany, United Kingdom, Japan, France, India, China and Taiwan, with distributor offices in other global regions.
About Oxford Instruments plc
Oxford Instruments designs, supplies and supports high-technology tools and systems with a focus on research and industrial applications. Innovation has been the driving force behind Oxford Instruments' growth and success for 60 years, supporting its core purpose to address some of the world's most pressing challenges.
The first technology business to be spun out from Oxford University, Oxford Instruments is now a global company and is listed on the FTSE250 index of the London Stock Exchange (OXIG). Its strategy focuses on being a customer-centric, market-focused Group, understanding the technical and commercial challenges faced by its customers. Key market segments include Semiconductor & Communications, Advanced Materials, Healthcare & Life Science, and Quantum Technology.
Their portfolio includes a range of core technologies in areas such as low temperature and high magnetic field environments; Nuclear Magnetic Resonance; X-ray, electron, laser and optical based metrology; atomic force microscopy; optical imaging; and advanced growth, deposition and etching.
Oxford Instruments is helping enable a greener economy, increased connectivity, improved health and leaps in scientific understanding. Their advanced products and services allow the world's leading industrial companies and scientific research communities to image, analyse and manipulate materials down to the atomic and molecular level, helping to accelerate R&D, increase manufacturing productivity and make ground-breaking discoveries.
For further information please contact: 
Ben Ohler, Director of Marketing, 805-696-6466