Owner Operator Gets 2.5 Million Miles with Horton Roller Bushings ... and Finds He Could Have Gotten Even More Miles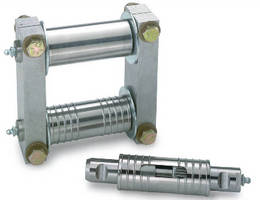 ROSEVILLE, Minn.-Since John Fitzgerald replaced his OEM spring pins and bushings with Horton Roller Bushings in 1993, he has put 2.5 million miles on his 1989 Peterbilt 379. During that time, he has gone through three seats in the truck. He recently switched out the Roller Bushings for a new set after 17 years. He was so impressed that he contacted Horton to share his news.

"I thought the Roller Bushings would be extremely worn after all these years, but they had hardly any visible signs of wear," says Fitzgerald, an owner operator based in Montello, Wis., who hauls cheese to the East Coast. "I had another set of Roller Bushings on the shelf, so I replaced the old ones. If I'd kept in the OEM parts, I would have replaced them about six times so far. That would have been cost prohibitive compared to the Horton parts. Longevity and cost aren't the only benefits. Roller Bushings provide a lot smoother ride, which is the reason I originally installed them."
Horton Roller Bushings alleviate frequent repairs and vehicle downtime, and eliminate seized pins and front-wheel hop. Benefits of the product also include protection from road contaminants and moisture that threaten a vehicle's suspension.

Horton Roller Bushings feature patented needle bearings that provide more than 7 linear feet of grease grooves for maximum lubrication and minimum maintenance. Dual lip seals on the product keep out dirt, permit old grease to escape and leave clean grease in place.

Installation of Horton Roller Bushings is easy due, in part, to the special ribbed casing. Less force is required during installation, and no special tools are needed for spring eye expansion.

To learn more about Horton Roller Bushings, contact a dealer or service center or contact Horton at http://www.hortonww.com/rollerbushings.

With 60 years of industry experience, commitment to service, reliability and innovation, Horton is a premium worldwide provider of fan drives, fans and suspension products. Horton's comprehensive research and development processes are driven by a dedication to exceed industry requirements today and in the future. The company has manufacturing plants in the United States and Germany, with licensed manufacturing facilities in Australia and the United Kingdom; offices in the United States, Canada, Mexico and Germany; and representatives in Brazil, Russia, South Korea, China and Australia. Horton products include VMaster® and Stratis® Viscous Fan Drives, VMaster Di and Stratis Di Viscous Fan Drives and Controllers, DM Advantage(TM) On/Off and Two-Speed Fan Drives, Arctis® Two-Speed Fan Drives, WindMaster® Revolution High-Efficiency/Hybrid-Flow Fans, WindMaster Fans, WindShift(TM) Modular Fans, Shogun(TM) Modular Fans, Electromagnetic On/Off Fan Drives, DriveMaster® Spring-Engaged Fan Drives, Klondike Series® Replacement Fan Clutches for the Kysor® K26RA as well as repair kits for Kysor's K26RA, K22RA and K22FA, PolarForce(TM) Two-Speed Conversion Kits, Genuine Horton repair kits, remanufactured fan drives and Roller Bushing Suspension Products.

More from Electrical Equipment & Systems