Overwrap Films feature child-resistant design.
Press Release Summary: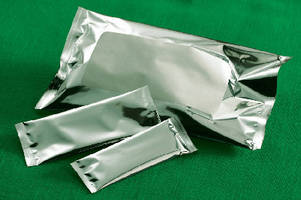 Targeting pharmaceutical and consumer products industries, Flexi-Free® CR product line is comprised of 4 standard film constructions with varying thickness, stiffness, and toughness to provide multiple degrees of child resistance. Products come in standard and enhanced levels of tear resistance and in standard and enhanced levels of both tear and puncture resistance. Sealant technology provides strong closures for either notch tear or scissor cut opening.
---
Original Press Release:

Ampac Flexibles Offers New Line of Child Resistant Packaging Overwrap Films



Cincinnati, OH (March 24, 2009)-Ampac Flexibles, the flexible packaging division of Ampac Packaging LLC, announces the availability of a new line of Flexi-Free® Child Resistant barrier overwrap film products for the pharmaceutical and consumer products industries.

Developed primarily for over-the-counter pharmaceutical applications, the Flexi-Free Child Resistant product line, signified by CR after the product name, can be utilized by packagers for a wide variety of overwrap applications where child resistance is required while still maintaining ease of opening by seniors. Ampac Flexibles' Flexi-Free CR product line is comprised of 4 standard film constructions with varying thickness, stiffness and toughness to provide multiple degrees of child resistance. The available choices make it easy for packagers and product companies to source the exact properties they require for their product, alleviating concerns about child resistance while maintaining a package that is senior friendly, is easy to process, and performs as required.

Ampac Flexibles' Child Resistant products are available in standard and enhanced levels of tear resistance and in standard and enhanced levels of both tear and puncture resistance. The sealant technology also provides exceptionally strong closures that still perform as required for either notch tear or scissor cut opening. Coupled with Ampac Flexibles' expertise in 10-color, high quality graphics and barrier development capabilities, the Child Resistant product line is the ideal solution for companies packaging single-dose medicines, children's medicines and products, various pharmaceuticals, or any consumer product that demands a level of barrier, puncture resistance or child resistance. Additionally, all structures can be FDA Drug Master File (DMF) listed.

The Flexi-Free CR laminations can be produced using Ampac's solventless lamination technology. A recent study completed for Ampac measured the energy efficiency improvement at the Cary, Illinois, facility by switching from solvent-based lamination (SBL) to solventless lamination (SLL). The study showed an impressive 86% improvement using SLL over SBL. This third party verification also allows for an extra credit for a sustainable energy efficiency gain improvement in the Wal-Mart Scorecard.

"Ampac is excited about the numerous applications we see for these newly developed child resistant overwraps. All structures are ideal for high speed Form, Fill and Seal packaging lines. Our graphics capabilities, combined with our ability to develop specific CR attributes, offers our customers an excellent choice in barrier overwraps" says Doug Andersen, Market Development Manager- Pharmaceutical and Medical.

Ampac Packaging LLC is privately held, and is owned by senior executives together with equity backing by Prudential Capital Group and Falcon Investment Advisors. It is a diversified, international, flexible packaging company with 14 manufacturing centers in North America, Europe and Asia employing approximately 1,300 people with revenues in excess of $300 million annually. In addition to products offered by Ampac Flexibles, the company is the preeminent supplier of domestic and overseas retail specialty shopping bags and security bag solutions.

For more information, visit Ampac's website at: www.ampaconline.com.

Please forward sales inquiries to:

Ampac Flexibles

12025 Tricon Rd

Cincinnati, OH 45246

Phone: (513) 671-1777

Fax: (513) 671-2920

Email: ampacflexibles@ampaconline.com

More from Printing & Duplicating Equipment