Overmolding Thermoplastic Elastomers resist scratching.
Press Release Summary: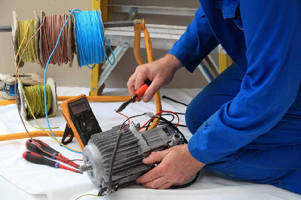 Formulated for overmolding onto nylon, Elastocon STK56PA and STK56PA-B feature Shore A Hardness of 60 for soft feel. Products offer impact resistance as well as resistance to many chemicals and household cleaning products. Latex-free, RoHS compliant, reclaimable, and recyclable, TPEs are suited for automotive and non-automotive knobs and levers, electronic component housings, and grips for tools, kitchen utensils, medical instruments, and appliances.
---
Original Press Release:

Elastocon TPE Technologies Expands TPE Nylon Overmolding Line; Offer Added Scratch and Mar Resistance Features



ROCHESTER, IL - A new line of thermoplastic elastomers (TPEs) formulated for overmolding onto nylon with added durability and high resistance to scratching and marring is now available from Elastocon TPE Technologies. They also provide a dry touch ergonomic feel.

New Elastocon STK56PA (natural) and STK56PA-B (black) TPEs were formulated for a variety of rigorous use applications including, but not limited to:

o Automotive and non-automotive interior soft touch knobs, levers and other components

o Sound and vibration dampening pad, clip and seal applications

o Tool and hardware grips, kitchen utensil grips, knife grips

o Ergonomic handles for medical instrument grips

o Grips for precision industrial tools

o Appliance grips and components

o Electronic component housings for durable, impact resistant ergonomic touch characteristics

o Various strain relief applications

With a Shore A Hardness of 60 to offer a soft touch feel, the new OM grades offer numerous benefits including requiring less material during processing, high flow properties to enable complex part design, excellent colorability, resistance to many chemicals and household cleaning products and excellent high impact resistance.

At the present time, Elastocon offers the 2800 Series and 8000 Series of TPEs, the SMR Series of TPOs, the STK Series for overmolding, and alloys, all of which can be injection molded, extruded, blow molded or compounded. Elastocon thermoplastic elastomers do not require drying and are offered for applications that require rubber-like properties, impact resistance, colorability, a good surface finish, easy processability, reduced material usage and numerous other features and benefits. All Elastocon grades are free from latex, and are RoHS and California Proposition 65 compliant, with many of the company offerings being FDA compliant, as well as UL and NSF approvable, and are suitable for medical applications. Elastocon can provide ISO reporting for manufacturing and shipping. All grades are reclaimable and recyclable.

For more information on the new STK56PA and STK56PA-B grades for overmolding onto nylon, contact: Marketing Department, Elastocon TPE Technologies, Inc., P.O. Box 463, Rochester, IL 62563. Tel: 1-888-644-8732. Fax: 1-888231-8332. E-mail: sales@elastocontpe.com. Web: www.elastocontpe.com.

Related