Overhead Robot Tracks support speeds up to 2.5 m/sec.
Press Release Summary: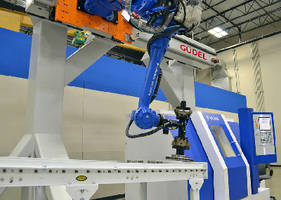 Built with linear motion components, Trackmotion TMO Systems come in 3 types designed specifically for elevated, wall, and inverted ceiling robot orientations. Four sizes accommodate smallest robots up to models in 2,500 lb range or static loads up to 5,000 lb. Cross beams are slimmer and more rigid with closer tolerances for machining and parts. Completely enclosed to keep contaminants out, heavy-duty roller bearings offer extended maintenance cycles.
---
Original Press Release:
Gudel Next Generation TMO Trackmotion Makes U.S. Debut in Yaskawa Motoman Booth 6600 at IMTS
TMO Trackmotion extends work envelope for Yaskawa MH50 robot on linear 7th axis

ANN ARBOR, MICHIGAN – High overhead at IMTS this year, September 8-13, look for a robot from Yaskawa Motoman traveling side-to-side on a new TMO Trackmotion linear axis from Güdel Inc. Visit Yaskawa Motoman booth 6600 in the North Hall at McCormick Place in Chicago to see a demonstration that shows advantages of an overhead robot on a 7th axis.

"TMO is in its third generation and is now a standard offering in Yaskawa Motoman's overhead robot solutions," said Joe Campbell, Vice President, Sales and Marketing at Güdel Inc. in Ann Arbor, Michigan. "TMO takes less space and weighs less – just like Yaskawa's newest robots – yet TMO is strong enough to handle all the torsional loads of the faster, stronger robots of today. Together with Yaskawa Motoman's robots, TMO increases useful workspace with smaller footprints and slimmer designs."

Mounted in the horizontal wall position on Güdel's Trackmotion TMO-3 is Yaskawa Motoman's MH50 robot which is ideal for coating, dispensing, machine tending, material cutting, material handling and press tending. It can be floor-, wall- or ceiling-mounted, and is a powerful, high-speed robot.

"Since the beginning, Yaskawa has always focused on producing the highest quality products," said Roger Christian, Vice President of Marketing and Product Development for Yaskawa Motoman. "When the need arises to extend the reach of our robots, Güdel is our best choice from a quality and performance standpoint. The TMO's slender yet sturdy design matches our product line-up perfectly."

Trackmotion TMO is a family of overhead robot tracks built with the latest linear motion components from Güdel. There are three types of TMOs designed specifically for elevated (E), wall (W) and inverted ceiling (C) robot orientations. TMOs come in four sizes to accommodate the smallest robot up to models in the 2,500 pound range or static loads up to 5,000 pounds. TMO is rated for speeds up to 2.5 meters per second with acceleration of 2.5 m/s2.

Cross beams have been redesigned to be lighter, slimmer and more rigid with closer tolerances for machining and parts. Carriages use less space which expands the work envelope. New heavy duty roller bearings are completely enclosed to keep contaminants out, so maintenance cycles are extended compared to the more common linear profile bearings on ordinary tracks. Güdelroller bearings can be replaced without removing the carriage, slashing mean-time-to-repair and reducing total cost of ownership.

The long and slender reach of the MH50 makes this robot superior for loading parts in and out of CNC machines. The MH50 features a 50 kg payload, 2,061 mm horizontal reach and 3,578 mm vertical reach. Two extended reach models (MH50-35 and MH50-20) are available with up to 3,106 mm horizontal reach and up to 5,585 mm vertical reach. Wide work envelopes with small interference zones allow these robots to be placed close to workpieces / equipment which reduces required floor space.

About Yaskawa Motoman
Founded in 1989, The Motoman Robotics Division of Yaskawa America, Inc. (Yaskawa Motoman) is a leading robotics company in the Americas. With nearly 300,000 Motoman® robots, 10 million servos and 18 million inverter drives installed globally, Yaskawa provides automation products and solutions for virtually every industry and robotic application; including arc welding, assembly, coating, dispensing, material handling, material cutting, material removal, packaging, palletizing and spot welding.

About Güdel Inc.
Güdel Inc. is the US subsidiary of Güdel Group, a global manufacturer of robotic automation products, systems and services for welding and metal fabrication. Güdel supplies linear motion modules, robot track motion units, gantry robots and components to OEMs, systems integrators and machine builders serving the automotive, aerospace, logistics, heavy industrial and power generation industries. Güdel Inc. is headquartered in Ann Arbor, Michigan with 45,000 square feet in dedicated manufacturing space, providing North American customers with engineering, design, production, and, customer service support. Güdel Inc also operates a satellite engineering office in Troy, MI.

Contact Person
Joe Campbell
Vice President, Sales & Marketing
joe.campbell@us.gudel.com

Brian Huse
Marketing Specialist
brian.huse@us.gudel.com
More from Material Processing