Overhead Door Introduces Advanced Performance Insulated Rolling Steel Door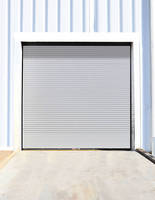 DALLAS — Overhead Door Corporation's Stormtite™ AP Model 627 offers commercial and industrial facility owners the most advanced thermal performance values published by any major U.S. manufacturer of insulated rolling steel doors. The new door system is the first with a published, tested U-factor rating and features the highest calculated R-value for added thermal resistance.



"Our market research indicates a growing demand for improved thermal efficiency and security. Therefore, we developed the Model 627 to provide customers the thermal efficiency needed for uninterrupted business operations," said Foeng Tjong, commercial product manager, rolling products. "Its superior thermal performance, durability and security features make the 627 the choice for the most demanding commercial and industrial applications."



Model 627 doors are constructed for maximum thermal performance. Each door surpasses International Energy Conservation Code (IECC) requirements, minimizes air transfer and reduces operating costs.



The door system provides unmatched thermal performance values for a rolling steel door with an R-value of 10.9, a U-value of 0.09 and a tested installed U-factor of 0.84. Additionally, exterior and interior EPDM triple-finned guide brush weather seals, along with hood, bottom bar and lintel weather seals, diminish air leakage around the perimeter.



The 627 also delivers 20 psf (design pressure) of wind load protection, equivalent to approximately 90-110 mph wind speed, and can be built to accommodate higher wind loading upon request. 



For added security, Stormtite™ AP doors are constructed of interlocking slats with endlocks and/or windlocks that provide resistance against forced exterior entry.



The Stormtite™ AP Model 627 provides additional customization options, such as:

• Standard chain hoist operation or crank and motor operation options;

• Large insulated vision lite featuring thick dual-wall polycarbonate for advanced insulation properties, maximum visibility and light transmittance;

• Slat options that include steel (standard), stainless steel or aluminum;

• Four standard colors plus the option of PowderGuard™ Zinc Premium powder coat finish in 197 colors or color-matched to specification; and,

• PowderGuard™ Zinc and PowderGuard™ Weathered finishes available for bottom bar angles and guides.



"The Model 627 is the ultimate package for architects and building owners because it provides industry-leading thermal performance and security," said Tjong. "Between its R-value, U-factor and advanced weather seals, it's the most sophisticated rolling service door on the market today."



Find information about the Stormtite™ AP Model 627 insulated rolling doors at www.overheaddoor.com. To locate a commercial Overhead Door distributor, visit http://www.overheaddoor.com/Pages/distributor-locator.aspx.



About Overhead Door Corporation

Overhead Door Corporation, based in Dallas, Texas, is a leading manufacturer of doors and openers for residential, commercial, industrial and transportation applications. The company has five divisions: Access Systems Division (ASD), which features the Overhead Door and Wayne Dalton brands; The Genie Company, manufacturer of remote-controlled garage door opening systems; Horton Automatics, a manufacturer of automatic entrance systems; TODCO, the largest producer of truck doors for the transportation industry and Creative Door Services, Western Canada's leader in providing door products and services to the residential, commercial and industrial markets. Overhead Door Corporation created the original overhead garage door in 1921 and the first electric garage door opener in 1926. Overhead Door now employs more than 3,500 people, has 22 manufacturing facilities, 78 regional sales and service and installation centers and more than 5,000 distributors and dealers that service national builders, national accounts, architects, general contractors and homeowners, as well as major retailers in the U.S. and Canada. Overhead Door Corporation is a subsidiary of Sanwa Holdings Corporation of Tokyo, Japan. For additional information, visit www.overheaddoor.com, our Facebook page or follow us on Twitter.



More from Electronic Components & Devices