Overfill Protection Device Connectors have quick-connect design.
Press Release Summary: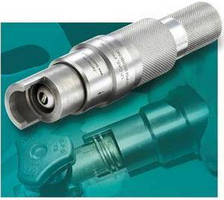 Designed for safe filling of OPD cylinders, UL Listed FasFuel connectors feature sleeve-actuated design to facilitate quick connect and disconnect operation. Internal shut-off valve minimizes amount of propane vented into atmosphere upon disconnection from OPD cylinder, achieving venting of less than 2.1 cc. Constructed of stainless steel, compact, lightweight units handle corrosive environments and feature ergonomic design that allows easy handling with heavy gloves.
---
Original Press Release:

FasFuel OPD (Overfill Protection Device) Connectors from Fastest Allow Fast and Safe OPD Cylinder Filling



Minneapolis, MN - FasTest announces FasFuel Overfill Protection Device (OPD) connectors, designed for safe and productive filling of OPD cylinders. Part of the FasFuel connector series-a family of tools designed to provide fast, easy and environmentally safe connections for the propane industry-OPD connectors feature a sleeve-actuated design to facilitate fast connect and disconnect operation for OPD cylinder filling.

A connection is made by pushing the connector's actuator sleeve forward over the cylinder's valve threads. The full-flow design ensures maximum flow rate while in operation, and the unique gripping design ensures a safe and secure valve connection. Upon completion of the cylinder filling cycle, the connector can be released with a simple pull back on the actuator sleeve. However, a safety feature prevents disconnect while the connector is still under pressure, ensuring operator safety.

The easy-to-use and reliable design facilitates efficient filling of numerous cylinders, and an internal shut-off valve minimizes the amount of propane that is vented into the atmosphere upon disconnect from the OPD cylinder. With venting of less than 2.1 cc, OPD connectors exceed clean air environmental requirements.

OPD connectors are patent pending and UL Listed to U.S. and Canadian safety standards. Stainless steel construction allows reliable performance-even in corrosive and other demanding environments-and connectors are rated to 500 psi. Connectors are compact and lightweight, with an ergonomic design that allows easy handling with heavy gloves.

FasTest is dedicated manufacturer of productivity and high quality improvement connection tools for pressure and vacuum testing applications. FasTest's complete line of specialty connectors are designed to provide leak-tight, reliable connections for industrial manufacturing applications. Custom leak test capabilities are available for unusual or unique requirements.

www.fastestinc.com

fastsales@fastestinc.com

More from Fasteners & Hardware