Overcurrent Protection Device ensures Li-Ion battery safety.
Press Release Summary: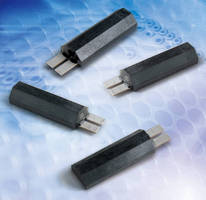 Intended for high-rate-discharge battery applications, MHP30-36 has 36 Vdc/100 A max rating and time-to-trip of under 5 sec @ 100 A and 25°C. Metal Hybrid PPTC (MHP) technology, which uses hybrid circuit protection approach that combines bimetal protector in parallel with polymeric positive temperature coefficient device, provides resettable overcurrent protection and arc suppression. Hold current is 30 A, and initial resistance is under 2 mW.
---
Original Press Release:

Tyco Electronics' Resettable Overcurrent Protection Device for Li-Ion Batteries Offers Size and Cost Benefits



Hybrid Circuit Protection Technology Capable of 30A Hold Currents and 100A Max

MENLO PARK, Calif.-Tyco Electronics , a global leader in circuit protection solutions, announced today the introduction of a Metal Hybrid PPTC (MHP) technology useful for high-rate-discharge battery applications at ratings above 30VDC/30A such as cordless power tools, e-bikes and back-up power supplies. MHP technology uses a new hybrid circuit protection approach that combines a bimetal protector in parallel with a polymeric positive temperature coefficient (PPTC) device. This integrated solution provides resettable overcurrent protection and utilizes the low resistance of the PPTC device to help prevent arcing in the bimetal protector at higher currents, while also heating the bimetal to keep it open and in a latched position.

Due to advances in lithium ion (Li-ion) technology, smaller, lighter weight, and higher power Li-ion batteries can now replace nickel cadmium or lead acid batteries previously used in high-rate-discharge battery applications. This trend has resulted in a rapidly expanding market for high-rate-discharge Li-ion battery applications, which, in turn, has created the need for cost-effective, robust circuit protection devices that help ensure battery safety in end-products.

However, few protection solutions address high-rate-discharge battery applications and traditional circuit protection techniques tend to be large, complex and/or expensive. In response, MHP technology provides a cost-effective, space-saving device that conventional circuit protection approaches are unable to deliver.

The initial product in a planned family of MHP devices, the MHP30-36 device has a 36VDC/100A maximum rating and a time-to-trip of under five seconds at 100A (at 25 degrees C). The device's hold current is 30A and the initial resistance is under two mOhms.

The MHP30-36 device offers excellent arc suppression characteristics compared to standard breaker devices that must limit the number of switching cycles since arcing between contacts may damage them. The MHP30-36 device can also help reduce the number of discharge FETs and accompanying heat sinks in applications that typically use IC-plus-FET battery protection designs.

"Available in a convenient small form factor, the MHP30-36 device provides a rugged, resettable circuit protection solution that offers battery pack designers and manufacturers a method to optimize space, reduce cost, enhance safety and help meet future battery safety requirements," said Ty Bowman, Global Battery Market Manager.

The MHP device technology can be configured for various applications, and higher voltage (up to 400VDC) and hold current (60A) devices are currently in development. Future design considerations include battery protection in Li-ion battery packs used in e-scooters and light electric vehicles (LEVs), as well as standby-power applications and non-battery applications such as electric motor protection.

For further information or technical assistance, call (800) 227-7040, or visit www.circuitprotection.com/MHP-Launch. To find a sales representative in your area, please go to: http://www.circuitprotection.com/contactus.asp.


Model: MHP30-36-T (30A, 36VDC)

Price: Available upon request

Availability: Samples available now

ABOUT TYCO ELECTRONICS
Tyco Electronics Ltd. is a leading global provider of engineered electronic components, network solutions, specialty products and undersea telecommunication systems, with fiscal 2009 sales of US$10.3 billion to customers in more than 150 countries. We design, manufacture and market products for customers in a broad array of industries including automotive; data communication systems and consumer electronics; telecommunications; aerospace, defense and marine; medical; energy; and lighting. With approximately 7,000 engineers and worldwide manufacturing, sales and customer service capabilities, Tyco Electronics' commitment is our customers' advantage. More information on Tyco Electronics can be found at: www.tycoelectronics.com.

TE (logo) and Tyco Electronics are trademarks of the Tyco Electronics group of companies and its licensors.


More from HVAC