Ovation Sets New Standard for Board Support Functionality - Grid-Lok Max and Pin-Lok Debut at Productronica 2013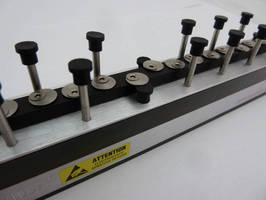 Bethlehem, PA - Upholding its continuous innovation pledge, Ovation Products today announced two new important capability additions to its award-winning Grid-Lok automatic board support system.   The novel enhancements, Grid-Lok Max and Pin-Lok, will be showcased from Ovation's Productronica 2013 display in Hall A3, Booth #202 from 12 to 15 November in Munich, Germany, as well as from partner booths throughout the event.



Ovation's Grid-Lok technology has won numerous awards in recognition of its ability to offer robust support for printed circuit boards (PCBs) – even those with the most delicate, fine-pitch components – during the printing, placement and testing processes.  As the technology has progressed, Ovation has continually expanded Grid-Lok's functionality to address the dynamic nature of electronics manufacturing.  Grid-Lok Max and Pin-Lok are the latest Grid-Lok system developments.

More from Mechanical Components and Assemblies