Oval-Q Air Welder comes with 1650 W heat element.
Press Release Summary: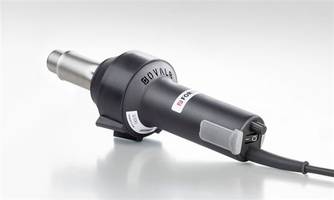 Oval-Q Air Welder is suitable for welding thermo-plastics, roofing materials, textiles, pond liners, tarpaulin and banner materials. Unit is equipped with optimally balanced motor and twin turbine system that delivers 240 L/minute airflow. Welder can be used for plastic repair of bins, bumpers and totes with welding rod. Product features oval shaped design and easily cleanable air filters and weighs 2.2 lb.
---
Original Press Release:
NEW Oval-Q Hot Air Welder
FORSTHOFF's experience of 40 years in hot air welder manufacturing is presented in this new line.
The NEW Oval-Q welder is characterized by its slight oval shaped and lean design which allows the user to work ergonomically. The air filters can be cleaned quickly and easily by a simple separation from the handgrip to insure maximum air flow and proper tool function.
This powerful welder has an efficient twin turbine system providing an airflow of 240 liters/minute. With this above average airflow, we use a robust 1650W heat element to yield maximum heat temperatures which are adjustable using the heat control knob. The Oval-Q is lightweight (2.2 lbs/1000 g) facilitating ergonomic and fatigue-free operation, and has an optimally balanced motor for minimal handle vibration. It is also available in 230V, 1500W power.
The OVAL-Q is suitable for welding all thermo-plastics. It is great for welding roofing materials, textiles, tarpaulin and banner materials, pond liners, and vinyl used in the construction of swimming pools. With simple tip change, the welder can also be used with welding rod for plastic repair of bins, bumpers, totes and many other plastic parts.
You can find more information and videos about the OVAL-Q and other Forsthoff welders at www.ForsthoffTools.com. The Forsthoff welders are supplied by Abbeon Cal Inc., 1363 Donlon Street Unit 1, Ventura, CA 93003, Phone 800-922-0977, E-mail: abbeoncal@abbeon.com.
Visit www.Abbeon.com to review our full line of Plastic Working products including Hot air welders, Thermocutters, HSK Extrusion welders, pneumatic bending table, molding equipment and safety knives.
Related