Oval NBR Suction Cups suit sheet metal handling applications.
Press Release Summary: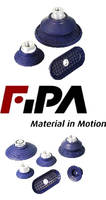 Rated for working temperatures of -22 to +194°F, flat SM-OF and bellows SM-OB Suction Cups enable dynamic, slip-free handling of both dry and oily metal sheets. Design utilizes multi-part, anti-slip cleats together with anti-slip supporting ribs that effectively absorb shear forces and prevent deformation of thin sheets. PWIS- and silicone-free, cups feature flexible sealing lip that provides leak-free suction on ridged, curved, elongated, and cylindrical workpieces with minimal surface area.
---
Original Press Release:

FIPA Releases High Performance Oval Suction Cups for Sheet Metal Handling Applications



Enabling the dynamic, slip-free handling of both dry & oily metal sheets in a variety of automotive, metal processing, & mechanical & plant engineering applications, FIPA's robust, new oval suction cups deliver unbeatable quality & exceptionally long lifetime performance at competitive prices



CARY, N.C. — FIPA Inc., a leading manufacturer of advanced vacuum technology, gripper systems, air nippers, tube lifters, and End-of-Arm-Tooling (EOAT), has expanded its extensive suction cup portfolio with the addition of two new series of oval suction cups for sheet metal handling. The new oval cup design of the SM-OF and SM-OB Series enables the dynamic, slip-free handling of both dry and oily metal sheets in a variety of automotive, metal processing, and mechanical and plant engineering applications, and is especially ideal for use in constricted spaces. The robust new design utilizes multi-part, anti-slip cleats together with anti-slip supporting ribs that provide a high degree of slip resistance, effectively absorb shear forces — even when handling oily sheets, and prevent the deformation of thin sheets, which is critical in applications like auto body manufacturing. Oval cups deliver significantly greater suction force than round cups of equal width, and the flat SM-OF and bellows SM-OB cups are also wear resistant to provide exceptionally long lifetime performance, which contributes to significant savings in operating costs over time. Further, these suction cups are PWIS- and silicone-free, and feature a flexible sealing lip that provides reliable, leak-free suction on ridged, curved, elongated, and cylindrical workpieces with minimal surface area, such as rails, tubes, and bolts.



"FIPA offers the widest range of suction cups in the world — all perfectly tailored to unique needs and applications across a broad spectrum of industries," said Rainer Mehrer, president of FIPA. "For example, the sheet metal and metal processing industries place rigorous demands on suction cups, requiring high holding force, dependable slip resistance, the absence of silicone and paint-wetting impairment substances, and an extremely long operating life. FIPA's entire line of suction cups for sheet metal handling, including our new SM-OF and SM-OB Series oval suction cups, not only satisfy these requirements, but also provide customers with unbeatable quality at competitive prices."



Rated for working temperatures spanning -22°F to +194°F, FIPA's new oval NBR suction cups are available with six different styles of robust aluminum connection threads to ensure maximum compatibility and provide customers with the opportunity to quickly and easily optimize even third-party systems. The SM-OF flat oval suction cups are available in seven sizes (56x16mm, 66x23mm, 96x32mm, 86x40mm, 106x50mm, 126x60mm, and 146x70mm) with various profile heights spanning 18mm to 34mm. The SM-OB oval bellows suction cups are available in four sizes (67x32mm, 87x42mm, 118x57mm, and 148x72mm) with profile heights spanning 27mm to 42mm, and feature bellows with 1.5 folds and a geometry that both enables the efficient handling of three-dimensional shaped sheets and ensures excellent attenuation when placed on a workpiece.



FIPA's new oval suction cups for sheet metal handling applications will be on display at Booth #C911 at FABTECH 2015 — North America's largest metal forming, fabricating, welding, and finishing event — which will take place November 9–12 in Chicago, IL. In addition to FIPA's new cups, event attendees can also view a dynamic gripper robot display and interact with the new FIPALIFT vacuum tube lifter, which allows users to safely and effortlessly handle smooth, structured, dry, oily, non-magnetic, and hot metal sheets up to 639.34lb (290kg) without the risk of dents, scratches, or paint-impairment substances.



For more information about FIPA's new oval suction cups for sheet metal handling applications, please visit http://www.fipa.com/en_US/products/2506519-oval-metal-sheet-suction-cups/25/1 to access the product datasheets for both the SM-OF flat oval suction cups and the SM-OB oval bellows suction cups, and http://ow.ly/STI3K to download the complete FIPA Vacuum Technology Catalog. For all other inquiries, please visit http://www.fipa.com, call 919-651-9888, or write to 1855 Evans Road, Cary, NC 27513.



About FIPA, Inc.

Founded in 2006 as a fully owned subsidiary of FIPA GmbH, FIPA Inc. is an international innovator and manufacturer of advanced vacuum technology, gripper systems, air nippers, tube lifters, and End-of-Arm-Tooling (EOAT) for automated assembly equipment and material handling systems. Spanning components to complete systems, FIPA's products are broadly employed in applications ranging from packaging, automotive assembly, and manufacturing automation equipment to material handling systems designed to move plastics, metals, glass, wood products, and, for printing equipment, paper and films. FIPA also delivers flexible, dynamic solutions on short lead times, and provides superior service and technical support.



Founded in 1985 and headquartered in Ismaning, Germany, FIPA GmbH has steadily expanded its global presence in recent years, adding representations in the United States, Thailand, Poland, Hungary, and Turkey. For more information about FIPA's products, services, and news, please visit http://www.fipa.com.



For more information, please contact:

Jennifer Gerdhenrichs, Manager

International Marketing Communication

FIPA Group

0049-89-962-4890

jgerdhenrichs@fipa.com

More from Packaging Products & Equipment