Output LDO Regulator ICs meet power-critical requirements.
Press Release Summary: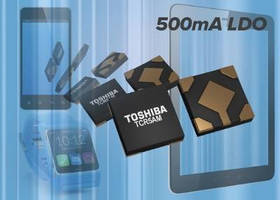 Available in fixed output voltages from 0.55–3.6 V and able to drive up to 500 mA, single-output TCR5AM series targets battery power-critical applications requiring LDO. External bias voltage terminal (VBAT), separated from power source input, increases power source efficacy. Along with over-current and over-temperature protections, LDOs feature inrush current protection and under-voltage-lockout function. Power dissipation is 0.6 W for 1.2 x 1.2 x 0.38 mm DFN5B package.
---
Original Press Release:

Toshiba Launches New Series of Output LDO Regulator ICs



Features Industry-Leading Low Drop-Out Characteristics at Low Voltage Input



IRVINE, Calif. -- Toshiba America Electronic Components, Inc. (TAEC)*, a committed leader that collaborates with technology companies to create breakthrough designs, today announced the launch of the TCR5AM series, a new lineup of 500 mA output low-drop out (LDO) regulator integrated circuits (IC)s. These single-output voltage regulators are available in fixed output voltages between 0.55 V and 3.6 V and are capable of driving up to 500 mA. The TCR5AM series is suited to WIFI chipsets, cameras, power management applications for smart phones, tablets, and wearables - and any application requiring an LDO where battery power is critical.



Toshiba has achieved industry-leading(1 )LDO characteristics for the new series by adopting an external bias voltage terminal (VBAT) that is separated from the power source input. This sets the new voltage regulators apart from conventional products and enables them to increase the efficiency of the power source. Additionally, the TCR5AM series incorporates protection functions such as over-current protection and over-temperature protection, making them a safe, efficient LDO solution.






TCR5AM series




Part number



Output voltage typ.
(V)





TCR5AM055



0.55





TCR5AM06



0.6





TCR5AM065*



0.65





TCR5AM07*



0.7





TCR5AM075*



0.75





TCR5AM08*



0.8





TCR5AM085*



0.85





TCR5AM09*



0.9





TCR5AM095*



0.95





TCR5AM10



1.0





TCR5AM105



1.05





TCR5AM11



1.1





TCR5AM115*



1.15





TCR5AM12



1.2





TCR5AM125*



1.25





TCR5AM13*



1.3





TCR5AM14*



1.4





TCR5AM15



1.5





TCR5AM16*



1.6





TCR5AM17*



1.7





TCR5AM18



1.8





TCR5AM19*



1.9





TCR5AM20*



2.0





TCR5AM21*



2.1





TCR5AM22*



2.2





TCR5AM23*



2.3





TCR5AM24*



2.4





TCR5AM25



2.5





TCR5AM26*



2.6





TCR5AM27*



2.7





TCR5AM28



2.8





TCR5AM285*



2.85





TCR5AM29



2.9





TCR5AM295*



2.95





TCR5AM30



3.0





TCR5AM31



3.1





TCR5AM32*



3.2





TCR5AM33



3.3





TCR5AM34*



3.4





TCR5AM35*



3.5





TCR5AM36



3.6







Features of the TCR5AM Series include:

--  LDO voltage: VIN-VOUT=0.072 V (typ.) @VOUT=0.6 V, VBAT=3.3 V, IOUT=300 mA,VIN-VOUT=0.120 V (typ.) @VOUT=0.6 V, VBAT=3.3 V, IOUT=500 mA

--  A wide range of products are offered with output voltage starting from 0.55 V: VOUT=0.55 to 3.6 V

--  Protection function: over-current protection, over-temperature protection, inrush current protection circuit, under-voltage-lockout function

--  High output current: IOUT=500 mA (max)

--  High power dissipation package: PD=0.6 W, 1.2x1.2x0.38 mm (DFN5B Package)



Pricing and Availability

Toshiba's new output LDO regulator ICs are available now. Please contact your local Toshiba Sales Office for samples.



*For information on products marked with *, please contact our sales division.



1: In the category of 500 mA LDO regulator ICs in a package under 1 mm square, as of February 16, 2015. Toshiba survey.



*About Toshiba Corp. and TAEC



About TAEC

Through proven commitment, lasting relationships and advanced, reliable electronic components, Toshiba enables its customers to create market-leading designs. Toshiba is the heartbeat within product breakthroughs from OEMs, ODMs, CMs, VARs, distributors and fabless chip companies worldwide. A committed electronic components leader, Toshiba designs and manufactures high-quality flash memory-based storage solutions, solid state drives (SSDs), hard disk drives (HDDs), solid state hybrid drives (SSHDs), discrete devices, custom SoCs/ASICs, imaging products, microcontrollers, wireless components, mobile peripheral devices, advanced materials and medical tubes that make possible today's leading smartphones, tablets, cameras, medical devices, automotive electronics, industrial applications, enterprise solutions and more.



Toshiba America Electronic Components, Inc. is an independent operating company owned by Toshiba America, Inc., a subsidiary of Toshiba Corporation, Japan's largest semiconductor manufacturer and the world's sixth largest semiconductor manufacturer (Gartner, 2014 Worldwide Semiconductor Revenue Estimates, December 2014). Founded in Tokyo in 1875, Toshiba is at the heart of a global network of over 590 consolidated companies employing over 200,000 people worldwide. Visit Toshiba's web site at www.toshiba.co.jp/index.htm.



© 2014 Toshiba America Electronic Components, Inc. All rights reserved.



Information in this press release, including product pricing and specifications, content of services and contact information,  is current and believed to be accurate on the date of the announcement, but is subject to change without prior notice.  Technical and application information contained here is subject to the most recent applicable Toshiba product specifications.



Media Contact:

Dena Jacobson

Lages & Associates

Tel.: (949) 453-8080

dena@lages.com



CONTACT: Rebecca Bueno, Toshiba America Electronic Components, Inc., Tel.: (949) 462-7885, rebecca.bueno@taec.toshiba.com

More from Optics & Photonics