Outlook Group in Neenah, Wis., Purchases Second MPS EF Press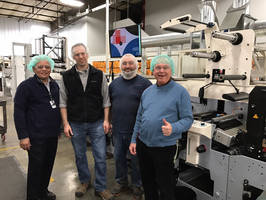 GREEN BAY, WIS. USA - Less than two years after purchasing their first MPS EF flexo press, Outlook Group LLC in Neenah, Wis., has decided to purchase a second MPS press.
Outlook Group is a leading printer of pressure sensitive labels, flexible packaging and folding cartons. In October 2016, Outlook Group announced its merger with M&Q Packaging under M&Q Holdings. The purchase of a second MPS press is part of Outlook's growth strategy.
Per Kees Nijenhuis, Vice President of MPS Systems North America, Outlook Group purchased a 17-inch, 8-color EF press with automated print pressure settings. "We are very proud to share that our partnership with Outlook has been a real success and that the EF platform has helped Outlook Group to continue their growth. The EF platform has proven to be a very successful platform in the North American market as it is a real future proof press platform, helping our customers to grow in today's increasingly dynamic and competitive markets.
"We looked at the success of our first machine from the standpoint of production speed, waste reduction and print quality," said Brett Peters, senior process engineer at Outlook Group. "We tracked press metrics very closely. The opportunity to add a second machine presented itself and we were able to quickly justify this project and move forward." Furthermore, he states that his team is especially excited about the EF's ability to print extremely thin films while holding a very tight register, along with its operator interface and ease of use.
About Outlook Group LLC
Celebrating 40 years' experience in custom product packaging, direct marketing, and printing, Outlook Group Packaging & Printing Solutions understands clients' needs and how to support their supply chain. OGC serves customers in the food and beverage, private label, personal care, consumer healthcare packaging, consumer products, and contract packaging markets with innovative packaging solutions including labels, shrink sleeves, folding cartons, flexible packaging, fulfillment, and contract packaging solutions. In addition to the G7 Master Printer Certification, Outlook Group is ISO 13485:2003 certified for Medical Packaging, has earned SQF Level 2 for Safe Quality Food Packaging, is cGMP compliant, and FDA registered. Outlook Group has two facilities located in Neenah, WI. For more information, please contact us at 920-722-2333, www.outlookgroup.com
About MPS Systems North America
MPS Systems North America, located in Green Bay, Wis., manufactures, sells and services high-end printing and converting machines for the pressure-sensitive and packaging printing markets. A subsidiary of MPS Systems BV, which is headquartered in the Netherlands, the company is responsible for many revolutionary innovations like Crisp.Dot® and Automated Print Control (APC) including Job Memory. A team of field service technicians is available in North America that is fully trained for the installation and after-sale service of MPS presses, www.mps4u.com
Contact:
Michele Farrell
920-465-3045
More from Agricultural & Farming Products