Outdoor Luminaires use lightheads that consume 40-55 W/lamp.
Press Release Summary: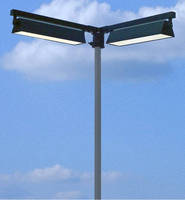 Comprised of 5 models, Full Cutoff Outdoor Area Lighting Arrays are outdoor, cantilevered, pole-mount luminaires that produce direct, downward, low-glare fluorescent light. Symmetric and asymmetric lighting designs, offering 5 lighthead choices and 4 wattage options, are constructed from clear anodized aluminum and feature impact-resistant clear acrylic lenses and internal aluminum reflector. Choice of 2, 3, or 4 horizontal fluorescent light housings project beyond support fulcrum.
---
Original Press Release:

Magnaray® Introduces Five Ways to Save Energy - From One Outdoor Lighting Luminaire Design



New Product Introduction:  Magnaray® International Full Cutoff Outdoor Area Lighting Arrays — models W2PX, W2RPX, W3PX, W4PX and W4PH — are each highly energy-saving, longlife, outdoor cantilevered pole-mount luminaires.  They can be ordered in five lighthead choices, and four wattage options, of direct downward lowglare light.



Design:  Larry Leetzow, IES, Lighting Consultant, and the Magnaray® In-House Lighting Design and Engineering Team.



Manufacturer:  Magnaray® International, founded 1962.  Second generation family-owned manufacturer, of energy-conserving outdoor and indoor high-bay/low-bay lighting exclusively.



Product Applications:  Magnaray® International Full Cut-off Outdoor Area Lighting Arrays deliver significant energy savings and long-lasting, low maintenance, functional outdoor area, roadway, pathway and site lighting without harmful glare, wasted spillover or light trespass.  They are well suited for a broad range of commercial, institutional, light industrial, military and governmental environs, in a series of five distinctive lighting arrays that form a "family" approach unique to the industry.  (The W4PH model in particular is a one-of-a-kind luminaire design with extraordinary ground-level coverage.)



Applications include automotive dealerships; parking lots and parking garages; entertainment and themed venues; government grounds; hospitals, clinics, physician office buildings; library, school and university campuses; military bases and facilities; office building grounds and corporate parks; residential condominium and gated-community properties; transportation terminals; upscale retail stores, enclosed and strip malls; urban/suburban pathway/street, area/roadway, and site lighting.



In short, wherever the need for high-performance, instant-on white-lighting of unusually high lumen efficiency and light coverage coincides with a want or requirement for exceptional energy conservation; long, durable operating life; fewer mounting poles needed with wider spacing between poles; and negligible routine maintenance long term.



Product Description:  Full Cutoff Outdoor Area Lighting Arrays are notable for strikingly designed two-, three-, and four-unit cantilevered symmetric and asymmetric lighting designs.  Luminaires are mounted to genuine Magnaray® sturdy low-scale, in-ground round or square poles.  As in geometric architecture, choices of two, three or four horizontal fluorescent light housings project beyond their support fulcrum in up to four directions from a single pole.  The designs are eye-catching, impressive and memorable.  Light output is unmatched in performance and long, low-cost operating life, with simple low-cost lamp replacement when eventually needed.



Full Cutoff Outdoor Area Lighting Arrays provide highly energy-efficient, uniformly distributed out- and downward-aimed white fluorescent light that mimics natural daylight, with high Kelvin temperatures and high color rendition.  Light-emitting performance is 89%, with sharp glare-free cut-off and no wasted light.  Each lighthead consumes as little as 40 watts per lamp, not more than 55 watts per lamp.



These distinctive-appearing high-quality fluorescent light fixtures replace harsh, more energy-consuming, glare-producing, higher maintenance, higher cost high-pressure sodium, metal halide, mercury vapor, LED or plasma pole-mounted fixtures.  Retrofitting to these twin T5 lower-wattage luminaires can produce energy savings for a single installation easily in the many thousands, or tens of thousands, of dollars per year.  Up to 50,000+ hour lamp life and 90% maintained lumens are common with Magnaray® quality.



Construction & Finishes:  Full Cutoff Outdoor Area Lighting Arrays are constructed from high quality, clear anodized aluminum for lasting durability and corrosion resistance.  Housings surround highly impact-resistant clear acrylic lenses and an internal, high-reflectance, optically designed, computer-enhanced aluminum reflector.   Optional low environmental-impact powder-coated finishes are standard in black, dark bronze, forest green or white.  RAL standard or custom colors may be specified.



Full Cutoff Outdoor Area Lighting Arrays are CSA Wet-Location listed, meet CE "Conformite Europeenne" standards; are IP54 rated, sealed and gasketed, comply with the U.S. Government "Buy American Act".  IES photometric files available. 



Magnaray® International is headquartered at 2242 Whitfield Park Loop, Sarasota, FL 34243.  Telephone: (941) 755-2111.  Fax: (941) 751-5483.  Email: sales@magnaray.com.  Visit Magnaray® on the World Wide Web at: www.magnaray.com.

More from Material Processing