Outdoor Lighting targets urban and public areas.
Press Release Summary: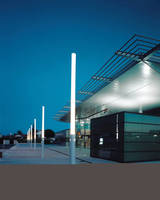 Comprised of luminous columns, bollards, luminaires, and wall fixtures, Nemo Family of outdoor light fixtures feature Sealsafe® optical compartment and are constructed of impact-resistant stainless steel and aluminum. Lenses, constructed of injection molded clear acrylic, are permanently sealed to reflector, and ballast module pivots out for simplified replacement or service. Units are wet location-listed per UL1598 and CSA C22.2 with IP rating of 66.
---
Original Press Release:
Schreder Lighting USA Introduces
Chicago, Illinois - Crafted of stainless steel and aluminum with clean modern aesthetics, the Nemo family of outdoor luminaires is being introduced by Schreder Lighting USA for a variety of applications in the American specification market. Schreder Lighting USA, the newest of the 40-plus member Schreder Group G.I.E. located in 30 countries on six continents, is marketing the Schreder brand in the fields of Public Lighting, Floodlighting, Tunnel/Transit Lighting, Industrial and Urban Lighting. Highlighted by a unique aesthetic affinity, Nemo provides a vibrant style for urban areas and public centers that features innovative lighting technology for a variety of different applications. This product family offers Luminous Columns, Bollards, Luminaires and Wall Fixtures. The Luminous Columns serve perfectly for public lighting or to illuminate any streetscape. The Luminous Bollards are ideal for highlighting city paths. Wall units and Luminaires are the complementary tools of this collection and make it possible to bring together a number of urban lighting functionalities with aesthetic coherence. Fitted with the renowned Sealsafe® optical compartment, all Nemo models offer a remarkable IP66 tightness level that guarantees that they will stay clean inside and deliver long-term photometric performance. Designed to meet rigorous mechanical standards and constructed of stainless steel, these fixtures offer a high degree of impact resistance. Each lens is permanently sealed to the reflector and the ballast module pivots out for easy replacement or service. With a height of 10 feet, the Nemo Column adds a distinctive architectural element and bright white light output to any streetscape or building site. The Nemo column is designed with a cylinder with a brushed stainless steel base and a sealed optical unit crafted with impact resistant translucent acrylic. The optical compartment, provided with a reflector made of aluminum, is located in the base of the light conductor. At the top of the cylinder, another reflector made of aluminum reflects the light towards the ground. Access to the lamp and the control gear is available from a hatch on the base. The Column accommodates a variety of lamping options including metal halide and LEDs. The Nemo Bollard is constructed of rugged stainless steel that prevents corrosion from landscape environments and minimizes maintenance. An original urban signage tool that is both luminous and aesthetic, the Bollard is fitted with an IP66-rated Sealsafe® optical compartment that is easily accessible and includes an acrylic protector and a conical reflector made of aluminum. The control gear is located inside the optical compartment. Standing up to 6.12 feet tall, the Bollard offers a variety of lamping options including metal halide, compact fluorescent and LEDs. The Nemo Luminaire is used for general pedestrian site lighting for urban areas. Its design complements the Nemo column, Bollard and Wall Bracket. The Nemo luminaire is available in "symmetrical lighting" and "asymmetrical lighting" versions for task-specific applications. The body of this luminaire is completely comprised of power coated aluminum. The IP66-rated Sealsafe optical compartment with an acrylic protector contains a lower conical reflector made of aluminum and an upper reflector. Access to the optical compartment and the control gear is available by loosening mounting screws and pivoting the base of the luminaire. To facilitate access to the lamp, the removable control gear plate, pivots on a hinge. With a height just over two feet and a diameter just under two feet, the Nemo Luminaire is available with a selection of metal halide lamps and with a variety of poles. A perfect complement to the Nemo Luminaire and Bollard, the Nemo Wall Fixture is made completely of stainless steel. The wall fixture draws attention to a building entrance, highlights a facade or guides the public towards a narrow passage. With a mechanical design that is similar to that of the Bollard, the wall bracket features an optical compartment that contains the lamp and the control gear. Access to the optical compartment is achieved by loosening screws and lifting the upper part of the unit. The control gear is located inside the optical compartment. Standing 14 inches tall and just over six inches in diameter, the Wall Fixture is available with a selection of metal halide lamps. Lenses are constructed of injection molded, impact resistant clear acrylic for optimum light output and permanently sealed to the housings. Nemo is wet location-listed per UL1598 and CSA C22.2 with an IP rating of 66. About Schreder Lighting USA Founded in 1907 in Belgium, Schreder Group G.I.E. is an international group that specializes in upscale, architectural outdoor lighting that is at the forefront of technological and aesthetic innovation. The members and affiliated companies of the Schreder Group share facilities and powerful, state-of-the-art tools for R&D, manufacturing, high-level photometric studies, and laboratory testing. Findings are made available to all companies in the group with the purpose of providing clients with the best options for the "Right Lighting". The "Right Lighting" Motto pertains to the enabling of design performance criteria that best incorporates economical, ecological, and energy efficient fundamentals. For more information, contact:
Schreder Lighting LLC
985 Busse Road
Elk Grove Village, IL 60007
Tel: 847.621.5100
Fax: 847.621.5121
Website: www.schreder.com
Email: info@schreder.com
More from Controls & Controllers