Outdoor LED Luminaire features universal, scalable design.
Press Release Summary: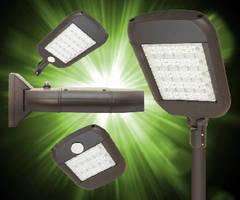 By applying 1 of 8 different mounting arms to universal body to create Canopy, Area, Flood, or Wall Pack luminaire, QuadroMAX can be customized for virtually any type of outdoor lighting application. Unit comes in 3 NEMA distributions and 5 input powers of 55, 80, 105, 135, and 160 W. Available with 120–277 V or 347/480 V dimming drivers, luminaire includes 20 KV surge suppressor to protect driver during power surges. QuadroMAX delivers efficacy of 110 lm/W and lifetime of 100,000 hours.
---
Original Press Release:

MaxLite Introduces QuadroMAX as First Universal, Scalable Outdoor Luminaire



WEST CALDWELL, N.J. –  Imagine being able to light an entire outdoor project using just one product.



That vision is now reality with QuadroMAX, the first universal and scalable outdoor LED luminaire, by MaxLite. QuadroMAX can be customized for virtually any type of outdoor lighting application by applying one of eight different mounting arms to a universal body to create a Canopy, Area, Flood or Wall Pack luminaire. With QuadroMAX, an entire project can be specified using the same body design for a clean, cohesive look throughout the space.



An energy-efficient replacement for traditional HID fixtures, QuadroMAX is offered in five input powers (55, 80, 105, 135 and 160 watts) and three NEMA distributions (Type III, Type IV and Type V) to meet any outdoor lighting need. In any configuration, QuadroMAX achieves industry-leading efficacy of more than 110 lumens per watt. QuadroMAX can scale up or down in size to match the application and overall project design, allowing customers to meet their lighting needs in the most cost effective way. For example, a smaller, lower-wattage fixture can be used to mount to the wall in one area, and in the same project, a fixture larger both in size and wattage can be mounted high up on a pole. Both fixtures will look like part of the same fixture family, but each one will be scaled just right for the job.



"During the product development process with QuadroMAX, we had four key product features in mind: scalability, universal mounting, excellent performance-to-value ratio and a visually pleasing design," noted Product Manager Francisco Garza. "With QuadroMAX, we set out to engineer a fixture solution to 80 percent or more of a customer's outdoor lighting needs in one unified family of fixtures. We knew that in order to be universal, the fixture had to accept multiple mounting options as well as different optics to allow it to be used for a multitude of outdoor applications, and that it had to look great when used on any of the targeted applications by having a well-thought design with visually pleasing lines.



"Scale was another very important factor in looking at the overall product design," he continued. "We can all agree that in lighting, one size does not fit all. Why would a customer want to pay for fixture designed to handle 180 watts when they only need 60?"



Although it is designed to be as cost effective as possible, QuadroMAX uses top of the line components and excellent thermal dissipation properties to achieve superior efficacy throughout its 100,000-hour lifetime. Lighting designers may take advantage of the fixture's performance and selection of distributions to reduce the number of poles and fixtures needed throughout a project to lower the total project cost.



Mounting options for the QuadroMAX include: canopy, pole mount, slipfitter adjustable knuckle, fixed slipfitter, wall pack, swivel trunnion, adjustable surface and fixed surface. The fixture is available with 120-277V or 347/480V dimming drivers, and includes a 20KV surge suppressor to help protect its driver during power surges. Any fixture can be customized to order to include a motion sensor and photocontrol receptacle.



MaxLite holds inventory of QuadroMAX in all of its available wattages. When an order comes in, the appropriate mounting arm and selected options are added to the box and promptly shipped out. This approach allows MaxLite to ship out a custom order in two weeks or less, depending on the size of the order, or in just a couple of days for standard product. QuadroMAX comes backed by MaxLite's five-year warranty and lifetime product support.



QuadroMAX is expected to be added to the DesignLights Consortium (DLC) Qualified Products List, facilitating its eligibility for utility rebate programs.



To learn more, go to www.QuadroMAX.com.



About MaxLite (www.maxlite.com)

MaxLite has been committed to providing energy-efficient lighting products for more than 20 years. One of the first movers into LED technology in the industry, MaxLite offers an extensive line of state-of-the-art indoor and outdoor LED lamps and luminaires under the MaxLED brand. A three-time recipient of the prestigious ENERGY STAR Partner of the Year Award for its industry leadership, MaxLite continues to be at the forefront of energy-efficient technologies through the innovative research and development capabilities of its New Jersey headquarters and California office. For more information, call 800-555-5629, email info@maxlite.com, or follow us on LinkedIn, Facebook and Twitter.



Contact information: Amy Silver, MaxLite, 12 York Ave, West Caldwell, NJ 07006

More from Software