Additive Manufacturing Systems
Out-of-the-Box 3D Printer fosters innovation via usability.
Press Release Summary: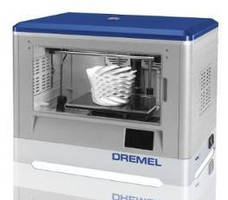 Supplied with print-ready 3D models and design tools to coach users through building process, 3D Idea Builder features full color touchscreen and onboard print software for stand-alone operation when needed. Pre-installed extruder allows out-of-the-box use, while fully enclosed package offer reduced-noise operation and protected object building. Along with 100 micron print resolution, features include active cooling fan and removable build platform for larger prints and projects.
---
Original Press Release:

Dremel Builds on Legacy of Easy-To-Use Tools with Introduction of 3D Printer



Comprehensive 3D printing ecosystem empowers a new generation of makers to build revolutionary projects for creative and functional purposes



MOUNT PROSPECT, Ill. --Today, Dremel introduces the Dremel(®) 3D Idea Builder, the most user-friendly 3D printing experience on the market. This adds a new dimension to the brand's robust portfolio of versatile tool systems. The Idea Builder is yet another high-quality, easy-to-use tool from Dremel designed to inspire and empower the end-user to build on their own ideas with the support and mentorship of the Dremel Experts. Through a strategic partnership with Autodesk, Inc., Dremel will provide free print-ready 3D models and simple design tools, while continuing to release new design tools on Dremel3D.com to coach users through the building process. Dremel 3D pre-sale starts Sept. 18, 2014, on homedepot.com and amazon.com, with in-store availability at select The Home Depot(®) stores in early November.



"Dremel 3D will enable people to take 3D printing to new levels, from imaginative projects for the home, to inventive projects that may impact the world," said John Kavanagh, president of Dremel. "Makers have been using Dremel tools to make three-dimensional creations with cutting tools for generations. Today, makers are using Dremel tools to fine-tune and fix their 3D printed creations and have been asking us to introduce a 3D printer. We're proud to offer them the Idea Builder and we can't wait to watch them build what's next."



Key Product Features of the Dremel 3D Idea Builder Include:



Easy-to-Use Functionality



--  Intuitive print software for simple customization of 3D models

--  Pre-installed extruder for fast out-of-the-box use

--  Print-ready model portfolio provided by Dremel and Autodesk to kick start the building process

--  World-class product support and mentorship via the Dremel Experts



Full-Featured Tool

--  Full color touch screen and onboard print software for stand-alone operation when needed

--  Fully enclosed for reduced noise and protected object building

--  Active cooling fan prevents warping of objects while they are built

--  Best-in-class print resolution (100 micron) for fine printing detail

--  Large, removable build platform for larger prints and projects



Family and Environmentally Friendly

--  UL certified to assure quality and safety

--  PLA filament in 10 vibrant colors are plant-based, recyclable and renewable

--  Energy saving mode reduces environmental impact and wasted energy



The Dremel 3D Idea Builder is more than just a 3D printer, it includes an "ecosystem" of features and services designed to nurture both novice and advanced users, opening a new world of project potential. Moreover, as the world's first UL certified 3D printer with best-in-class features and world-class service via the Dremel Experts, Dremel 3D is the perfect choice for home use. To complete this ecosystem, Dremel, through its strategic partnership with Autodesk, Inc., will offer access to free* design tools found on www.Dremel3D.com. Consumers will be able to choose from print-ready models, simple adjustable templates, such as a jewelry customizer, or they can choose to start their design from scratch with easy access to the Autodesk(®)123D(®)  family of free* design software applications.



"This is just the beginning for us," said Kavanagh. "The Dremel 3D model portfolio will continue to grow with the help of Autodesk(®) 123D(®) apps and the models we will curate from our community. Additionally, we'll be offering an increased number of customizers on our site that will further empower people to develop and personalize projects of their own. Long-term, the partnership with Autodesk will allow us to bring together hardware and software to better address the needs of our community. We're excited to be an early partner with Autodesk in using Spark, the open platform to better connect digital content and the hardware."



The Dremel 3D Idea Builder is available for pre-sale starting Sept. 18, 2014 on homedepot.com and amazon.com and will be available starting in November in select The Home Depot stores throughout the U.S. (MSRP $999). In addition to select The Home Depot locations in Canada, the Dremel 3D Idea Builder will be available at select Canadian Tire stores and online at canadiantire.com. To locate a store near you in the U.S. and Canada, check out the location finder at www.Dremel3D.com.



Catalog Number: 3D20



For more information on Dremel products, project ideas and problem-solving tips, visit www.Dremel3D.com or call Dremel at 1-844-4DRML3D.



About Dremel



Since inventing the high-speed rotary tool in 1934, the Dremel brand has expanded its legacy of industry leadership and excellence into a full line of versatile tool systems that deliver the perfect solution for almost any job. Whether it's our Dremel rotary tools, Multi-Max(TM) oscillating tools, Ultra-Saw(TM) and Saw-Max(TM) multi-saws, Fortiflex(TM) flex shaft tool or another tool in the Dremel family, consumers have come to know and trust the brand to complete their projects. Combining compact size, ergonomic design, precision and versatility, with a wide range of highly engineered accessories, Dremel tools can be used to accomplish numerous applications on a variety of materials.



Today, as a wholly owned subsidiary of the Robert Bosch Tool Corporation in Mount Prospect, IL, Dremel celebrates 82 years in business and maintains its commitment to innovation and quality as the manufacturer of the top-selling rotary tool in the world. Regardless of what the task may be, the Dremel brand is dedicated to empowering makers and DIY'ers through creativity, precision and project enjoyment.



Editor's Note: Dremel(®) is a registered brand name and is used as an adjective to describe the products made by the Dremel brand.



*Free products are subject to the terms and conditions of the end-user license and services agreement that accompanies the software.



123D, Autodesk, Autodesk 123D and the Autodesk logo are registered trademarks or trademarks of Autodesk, Inc., and/or its subsidiaries and/or affiliates in the USA and/or other countries.



CONTACT: Alyssa Cicero, JSH&A Communications, 630-916-3034, Alyssa@jsha.com, John Hauter, Dremel, 224-232-3341, John.Hauter@us.bosch.com

More from Machinery & Machining Tools