OSS to Demonstrate World's First PCIe Gen 4 Cable Adapter at SC18 on November 12-15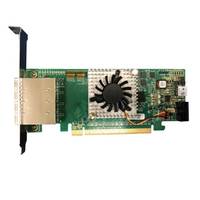 ESCONDIDO, California – November 11, 2018 – One Stop Systems, Inc. (Nasdaq: OSS), a leader in specialized high-performance computing, has been invited to exhibit at SC18 at Kay Bailey Hutchison Convention Center in Dallas, Texas on November 12-15.
SC18 is an international conference for high-performance computing, networking, storage, and analysis. OSS will showcase its latest products and solutions alongside more than 375 exhibitors from around the world, comprised of manufacturers, research organizations, and universities.
Attendees can stop by its booth #527 for a demonstration of the company's recently introduced HIB616-x16, the world's first PCIe Gen 4 cable adapter.
The OSS booth will also feature a partner pavilion where several OSS partners will be represented, including NVIDIA, SkyScale, Western Digital, Liqid, One Convergence, Intel and Lenovo. OSS and its partners will showcase new products, services and solutions for high-performance computing, including GPU and flash storage expansion, composable infrastructure solutions, the latest EOS server, cloud computing, and the company's recently introduced Thunderbolt eGPU product.
Customers can order this next-generation PCIe Gen 4 cable adapter along with other products and solutions from One Stop Systems' highly-trained sales engineers at sales@onestopsystems.com.
About SC18
SC18 is the premier international conference showcasing the many ways high performance computing, networking, storage and analysis leads to advances in scientific discovery, research, education, and commerce. The annual event, created and sponsored by the ACM (Association for Computing Machinery) and the IEEE Computer Society, attracts HPC professionals and educators from around the globe to participate in its complete technical education program, workshops, tutorials, a world class exhibit area, demonstrations and opportunities for hands-on learning. For more information, go to sc18.supercomputing.org.
About One Stop Systems
One Stop Systems, Inc. (OSS) designs and manufactures specialized high-performance computers including customized servers, compute accelerators, flash storage arrays, expansion systems and other specialized system elements. These products are used for deep learning, AI, defense, medical, finance and entertainment applications. OSS utilizes the power of PCI Express, latest GPU accelerators and NVMe flash cards to build award-winning systems, including many industry firsts, for OEMs and government customers. The company's innovative hardware and Ion Accelerator software offers exceptional performance and unparalleled scalability. OSS products are available directly, through global distributors, or via its SkyScale cloud services. For more information, go to www.onestopsystems.com.
Media Contact:
Katie Rivera
One Stop Systems, Inc.
Tel (760) 745-9883
Investor Relations:
Ronald Both or Grant Stude
CMA
Tel (949) 432-7557
Related