Oscilloscopes provide full-color display capabilities.
Press Release Summary: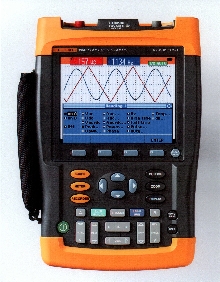 ScopeMeter® 196C and 199C have 200 MHz bandwidth and 2.5 GS/s real-time sampling rate per input. Model 196C is 100 MHz with 1 GS/s real time sampling. All ScopeMeter test tools are 2-channel oscilloscopes with separate high-speed digitizers per channel. 190 Series ScopeMeter test tools are 1,000 V CAT II and 600 V CAT III safety certified. 190C Series provide 4 hours operating time per recharge of its NiMH battery packs.
---
Original Press Release:

Fluke Adds Color and Greater Capabilities to its ScopeMeter(R) 190 Series Test Tools


* ScopeMeter 190 Series handheld oscilloscopes now available with full on-screen color and larger display screen for even more analytical firepower
* Faster display updates for lightning operation
* Latest technology updates now standard on easy-to-use 196C and 199C

EVERETT. Wash. - Fluke Corporation, the world leader in compact, professional electronic test tools, has added two new full-color ScopeMeter® test tools to its popular ScopeMeter 190 Series handheld oscilloscope product line.

The new 196C and 199C provide full-color display capabilities on larger screens, significantly faster display update rates, and additional capabilities. The color and display speed of the new models combine with the proven power and portability of ScopeMeter tools to provide users a powerful yet easy-to-use handheld oscilloscope that matches or surpasses the power of traditional, non-portable bench oscilloscopes.

"The color display capabilities of the Fluke ScopeMeter 196C and 199C oscilloscopes make identification of individual waveforms significantly easier," said Hilton Hammond, product marketing manager for ScopeMeter test tools at Fluke. "Color also makes it possible to visually distinguish individual traces if waveforms are displayed on top of or close to one another. Answers to problems that may have been buried before pop out when displayed in contrasting colors."

Electronics professionals and technicians in many industries use ScopeMeter test tools to monitor, troubleshoot, and maintain electrical and electronics systems throughout the world -- from telecommunications systems that span the globe, to explosion suppression systems that monitor accuracy bv milliseconds.

"When the original ScopeMeter 190 Series test tools were launched two years ago. it introduced field engineers and technicians to handheld instruments with the speed, performance, and analytical power usually found only on high-end bench oscilloscopes," Hammond said. --Now, no matter the application, the color displays and enhanced capabilities in the 196C and 199C allow ScopeMeter test tool users to solve virtually all electronics measurement problems encountered in the field."

Full-size display with faster update rate

The new bright color display of the 196C and 199C, higher screen resolution (now 320 x 240 pixels), and a deeper memory (1.200 instead of 1.000 samples in scope mode, or 27.500 samples in ScopeRecord(TM) mode) further enhance the detail reproduced on screen. An engineer now can fix more because he can see more. Thanks to a many-times faster display update rate, signal changes are displayed immediately, helping users analyze complex, modulated, or other fast-changing waveforms. Faster display of dynamic signals is particularly useful when making fine adjustments to a system under test.

In addition to enhancing the ability to retrieve information buried in waveform displays, the 196C and 199C also use color for warnings and other on-screen labels, making it easier to distinguish them and to link information to specific waveforms. A brighter, high-contrast display allows clear reading under varying light conditions while preserving the full four hours of battery operation.

Easy to use

All the power in the world is wasted if the equipment is so complicated that its functions go unused. ScopeMeter 190 Series test tools, which combine the abilities of an oscilloscope, a digital multimeter. and a paperless recorder in one easy-to-hold, compact tool, are specifically designed to be easy to learn and use, with a menu driven interface and on-screen prompts. Rick Reade, of the Explosion Suppression Divison of Fike Corporation, has made ScopeMeter test tools a required part of his technician's tool kits.

"Our work requires hair-trigger levels of accuracy." Reade said. "I need the ScopeMeter test tool because it can handle that level of accuracy - and because I can rapidly and thoroughly train our technicians to take full advantage of its capabilities."

New triggering mode

In addition to their ease of use. the 196C and 199C offer an extensive choice of automatic and manual triggering modes, including Fluke's unique Connect-and-ViewTM mode for capturing virtually any signal, and now also feature a "Stop on Trigger" function in Scope Record mode.

This allows an instrument to be programmed to acquire waveform information and stop once the oscilloscope is triggered. Alternatively, the scope can stop if a repetitive trigger signal is interrupted. useful for recording and analyzing power interruptions and machine failures, for example.

Digital Persistence mode

Thanks to a newly designed digital signal processing core, a Digital Persistence mode gives the instrument the abilitv to offer an analog oscilloscope-like waveform decay. especially useful when working with complex or modulated dynamic signals. Where an oscilloscope's display normally represents the amplitude of a signal as a function of time, the Digital persistence mode shows the amplitude distribution over time using multiple intensity levels and a user selectable decay time, resulting in a waveform display similar to that of an analog oscilloscope.

Many more new capabilities

Other new features of the 196C and 199C include a waveformn reference feature that allows an acquired trace to be stored and designated as a "reference trace" that subsequently can be used to visually compare newly against acquired waveforms. To allow users to measure the effective output voltage of variable speed motor drives and frequency inverters, the 196C and 199C also
offer built-in Vpmw measurement capabilities. Recent ScopeMeter 190 Series test tool technology updates are standard on the 196C and 199C, including variable gain on Channel A to facilitate comparing signals between two inputs, powerful mathematical functions for adding, subtracting, and multiplying waveforms: and the ability to display waveforms in A-versus-B-mode, the so-called Lissajous diagram.

ScopeMeter specifications

The top-of-the-range Fluke 199. including the new 199C, have a 200 MHz bandwidth and 2.5 GS/s real-time sampling rate per input. The 196C is 100 MHz with 1 GS/s real time sampling. All ScopeMeter test tools are two-channel oscilloscopes with separate high-speed digitizers per channel. All Fluke 190 Series ScopeMeter test tools are 1,000 V CAT II and 600 V CAT III
safety certified. Long battery life is essential for handheld tools, and the 190C Series provide four hours operating time per recharge of the NiMH battery packs. Extensive user documentation is supplied on CD-ROM (in .PDF-file format) in nine languages.

More from Machinery & Machining Tools