Electrical / Electronic Probes
Oscilloscope Probe gets to hard-to-reach test points.
Press Release Summary: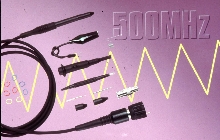 Microline 500 MHz bandwidth probes tests high-frequency applications. Measuring 5mm dia. and 65mm long, probes access miniaturized and multiple test points such as fine-pitch IC leads. Spring-loaded plunger allows probe to float while maintaining constant level of pressure on tip. It has input resistance of 10 Mohm, and is rated for use in CAT II, 300V and CAT I, 500V environments. Probe set includes handle and 1.2 m length cable with BNC plug.
---
Original Press Release:
Pomona Electronics 500 MHz Microline Oscilloscope Probes Allow Easy Access to Hard-to-Reach Test Points in High Frequency, High-Density Circuits

POMONA, Calif., Feb. 19, 2002 - Pomona Electronics has announced a new series of Microline Oscilloscope Probes designed to speed up and simplify testing of high frequency, high-density circuits in limited space areas. Compatible with digital and analog oscilloscopes, the new 500 MHz bandwidth probes provide capability to test a broad range of high-frequency applications.

Measuring only 5mm in diameter and 65mm in length, the micro-sized, slim-style design enables access to miniaturized and multiple test points that are much more difficult to reach with standard size probes. These probes are particularly well suited for measurements on fine pitch IC leads. The small outline probe is easy to hold and the slim-line design helps guide the tip into dense circuitry without obstructing visual contact within the test point area.

The probe design also incorporates a replaceable, spring-loaded pogo-pin tip that makes it easy to probe fine pitch IC chip leads and fine traces on PC boards. The spring-loaded plunger allows the probe to "float" while maintaining a constant level of pressure on the tip, assuring steady, reliable contact. The "pogo-pin" feature also prevents the tip from slipping and damaging other components or circuit board traces, and is easily replaced when necessary.

"High-frequency applications are much more common and the new Microline Oscilloscope Probe offers an ideal solution for testing with oscilloscopes in these applications" said Robert Poirier, Senior Product Manager."With the small outline and the added benefit of the 'pogo-pin' tip, users will find it extremely easy to access very small test points and maintain reliable contact with hard-to-reach IC test leads."

The new Microline Probe is a 500 MHz X 10 passive voltage probe with input resistance of 10Mohm, and is rated for use in CAT II, 300V and CAT I, 500V environments. The probe set includes the probe handle and a 1.2-meter length cable with BNC plug. The accessory kit includes: pogo-pin spring loaded tip and rigid tip (one each), IC tip adapter, 25mm ground adapter, 110mm ground lead with alligator clip, tip cover, BNC adapter, sprung hook, trimmer adjustment tool, color-coded rings, and a complete set of instructions and specifications. .

The Microline Oscilloscope Probe Model 6551 (with readout actuator) and Model 6554 are priced at $230.00 each and are immediately available from an authorized Pomona distributor. For more information or to order a free copy of Pomona's Test & Measurement Accessories Catalog, contact Pomona Electronics.

Technical and product information is available 24 hours a day, seven days a week, on-line at www.pomonaelectronics.com or via the "PomonaACCESS" Fax-On-Demand program at (800) 444-6785.

Pomona Electronics Pomona Electronics has the broadest line of test accessories in the world for applications ranging from test labs to field service and plant maintenance, repair and operation and are available through the company's global distribution network. The Pomona line includes banana plugs, coaxial cables, oscilloscope and DMM probe kits and accessories, IC test clips, boxes, connectors and test leads. For more than 50 years, the company's innovative design and high quality manufacturing have provided engineers and technicians with tools that keep pace with constantly changing technologies, and meet both UL and IEC 1010 safety standards.

More from Machinery & Machining Tools