Oscillators support multiple frequency outputs from single pin.
Press Release Summary: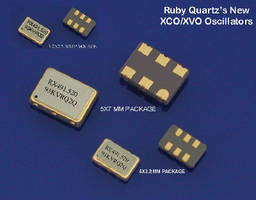 Offering direct replacements for FOX XpressO oscillators, XCO and XVO Oscillators are available with LVCMOS, LVPECL, and LVDS outputs. Units feature very low RMS phase jitter of 0.6 ps in 12 KHz to 20 MHz bandwidth. Power supply voltages are available at 3.3 and 2.5 V. Supplied in 5 x 7, 5 x 3.2, and 3.2 x 2.5 mm ceramic packages, oscillators are available in versions with overall frequency stability of ±20 ppm in temperature range of -40 to +85°C.
---
Original Press Release:

Product Offers Very Low Jitter, Multiple Frequency Outputs from a Single Pin and Shipment within Days



FAST TURNAROUND of DIRECT REPLACEMENTS for FOX XpressO FAMILY OF VCXOs and CLOCK OSCILLATORS

These new Rubyquartz XCO and XVO oscillators are designed to offer a true second source to the Fox Electronics' XpressO family while adding improved jitter and temperature stability as well as selectable multiple frequencies on one output pin.

Because of their tight parameters, size and shipment availability, these new Rubyquartz products are ideal for usages in Fiber Transmission, Wireless and Backhaul Transmission, Storage, Video Broadcasting and Instrumentation.

Both the XCO and the XVO are offered in 5 x 7, 5 x 3.2 and 3.2 x 2.5 mm ceramic packages, and are available with LVCMOS, LVPECL and LVDS outputs, allowing for a wide range of application technologies. These oscillators offer a very low RMS phase jitter of O.6 ps typical in the 12 KHz to 20MHz bandwidth. Power supply voltages are available at 3.3V and 2.5V.

A key feature for the XCO and XVO is the availability of a version with very tight overall frequency stability of ±20 ppm in a temperature range of -40 to +85º C. The XCO offers the possibility of selecting between one and four factory programmed output frequencies on the same output pin, while the XVO allows up to two configurable output frequencies on one output pin..

Ideal for the time conscience customer, Rubyquartz Technology is accepting very fast delivery orders for their XCO and XVO families with a turn-around time of 48 hours for prototype quantities from its Miami, FL facility. Typical pricing for a LVPECL Clock Oscillator at 212.500 MHz @ 3.3V in a 5 X 7 mm ceramic package is at $5.50 for 1000 pieces.

Company Contact: Sasha Wolloch @ 305-406-0211