Vision and Imaging Sensors / Detectors
ORT 230/240 optical rotary Torque Transducer offers lifetime warranty.
Press Release Summary: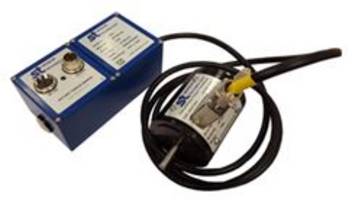 Available in two models ORT 230 and ORT 240, TorqSense ORT 230/240 Series of Optical Rotary Torque Transducer measures rotary and static torque up to 100Nm with bandwidth up to 50kHz. Measuring low torque and high bandwidth, device offers shafts of 0.5deg and 0.25deg maximum torsion deflection on smaller and larger transducers respectively. Applications include food and chemical mixing, engine or turbine power measurements, friction and spring testing.
---
Original Press Release:
Optical rotary torque sensors suitable for low torque and high bandwidth measurements
Saelig Company, Inc. (www.saelig.com) announces the TorqSense ORT 230/240 Series of Optical Rotary Torque Transducers, which set a new benchmark in performance standards for digital torque measurement. They are ideal in low torque and/or high bandwidth applications, providing precise, dynamic measurement of rotary and static torque up to 100Nm and with a bandwidth of up to 50kHz. The TorqSense ORT 230/240 devices benefit from a sophisticated electronics design that delivers significant improvement in resolution, frequency response, sensor current consumption, and digital data throughput compared with many other competitive products. The high speed capability comes from an inherently low inertia design, since the electronics are not fixed to the shaft. Non-contact operation ensures long life and reliability with high accuracy. The optical operating principle also ensures excellent noise immunity, and the units are backed by a lifetime warranty. Optical rotary torque sensors use a pair of gratings attached a short distance apart on a strain-sensitive shaft to modulate a light source. As torque is applied to the shaft, a slight twist results which changes the alignment of the gratings and thus varies the light transmitted through to the detector. The use of this technique results in a transducer which is able to detect torque bi-directionally, and which has a fast mechanical and electrical response, low inertia and complete freedom from brushes or complex electronics. The absence of brush gear allows high-speed operation with a continuous rating up to 30,000rpm. Further increases in rpm are available depending upon shaft size. The torque shaft is of low compliance 0.5deg maximum torsion deflection on the smaller transducers and 0.25deg maximum on the larger transducers at full-scale deflection. Full-scale torque can be specified within the range 10mNm to 100Nm.
TorqSense ORT 230 sensors provide fixed voltage or current analog outputs - one for torque and one for either speed or power, while the ORT 240 model provides two user selectable voltage or current analog outputs - one for torque and the other for either speed, power or peak torque. Also included in the ORT 240 are digital outputs including RS232, CANbus, and USB for interfacing with additional instrumentation and laptops. Up to ten ORT 240 transducers can be connected via USB. Features of both devices include self-diagnostics to report if the transducer's torque, speed ratings or calibration date have been exceeded, while built-in sensors monitor shaft temperature for better compensation and accuracy. The ORT 240 also offers a simple 'sensor status' output.
Complementing these products is the TorqView software, provided at no extra charge, which is an easy-to-use advanced torque monitoring package for Windows PCs to assist with data display and recording. The collected data and real time chart plotting can be saved for quality control and statistical reporting purposes. TorqView is compatible with both Matlab and Excel. LabVIEW VIs and DLLs are provided for use when designing custom process control applications. Applications for these torque sensors include: food and chemical mixing, engine and turbine power measurements, measuring peel forces, friction, and bottle cap torque, spring testing, ISO 9000 and other quality control during manufacturing, screw and assembly machine logging.
The TorqSense ORT 230/240 Series optical rotary torque sensors are made by Sensor Technology Ltd., one of Europe's premier torque transducer suppliers, and are available from their USA distributor Saelig Company, Inc. Fairport, NY. For detailed specifications, free technical assistance, or additional information, please contact (toll-free in the US) 1-888-7SAELIG, via email: info@saelig.com, or visit www.saelig.com or www.sensors.co.uk.
About Saelig Company Inc.
Founded in 1988 in Rochester, New York, Saelig is a North American distributor with a growing reputation for finding and sourcing remarkable, unique test and measurement and control products and components for use in a wide variety of industries. Products lines are continuously added from sources across the globe, and are offered at competitive prices, accompanied by full in-house technical support, exceptional customer service, and fast delivery.
For full details of available product lines, please visit www.saelig.com. Contact Information Email: info@saelig.com Phone / Fax: 585-385-1750 / 585-385-1768 Web: http://www.saelig.com
More from Electronic Components & Devices