Gas and Chemical Sensors / Detectors
ORP Sensor assists in bleach making.
Press Release Summary: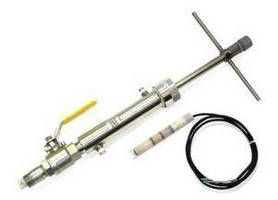 Designed to measure and control solution's oxidation-reduction potential, Endura TBX587 helps achieve specific ratios of sodium hydroxide and chlorine when making bleach. Standard solution ground rod allows for continuous monitoring of glass breakage, shorts, and reference coating and contamination. Using inner plunger that protects against temperature fluctuations, electrode design eliminates failures due to thermal stress caused by rapid temperature excursions.
---
Original Press Release:

Monitoring ORP to Make Bleach



Warminster, PA, -- Commonly, bleach making consists of mixing sodium hydroxide (caustic) with chlorine to produce sodium hypochlorite of various strengths. For example, bleach for home laundry use is weak while bleach for disinfection is stronger. Industrial bleaching operations, such as in pulp and paper applications, typically require strong bleaching action.

The initial strength of the caustic determines the overall concentration of bleach and its stability. The amount of chlorine will determine the pH value and the bleaching effectiveness of the solution. Measurement and control of the solution's oxidation-reduction potential (ORP) serves as an effective way to achieve specific ratios of the two bleach components.

ORP and pH sensors are similar. The difference is that the ORP sensor measures the electrochemical effect of all ions in solution, while the pH sensor looks only at hydrogen ion concentration. For bleach making, ORP sensors offer more resolution and tighter control. They also last longer because pH sensors lose efficiency more quickly in the strong caustic solutions.

Excess caustic produces low, negative ORP readings (in millivolts). Chlorine, on the other hand, raises the ORP readings. An ORP measurement and control loop can effectively achieve whatever bleach strength is desirable.

Measuring ORP

The Endura TBX587 is the latest addition to ABB's successful line of industrial pH/ORP sensors. A well deserved reputation for ruggedness, longevity, and accuracy are hallmarks of the TBX5 Series. The sensors are easily applied to most industrial measurement needs. They are renowned for their ability to outperform conventional gel filled sensors in the toughest process applications.

The standard solution ground rod allows for continuous monitoring of glass breakage, shorts, and reference coating and contamination. ABB offers a wide variety of solution ground materials and o-ring options suitable for most any industrial processes.

The TBX587 electrode design eliminates failures due to thermal stress caused by rapid temperature excursions. Unlike other sensors that use a large inner air bubble for expansion absorption, the TBX587 electrodes use a unique inner plunger that provides more effective protection against temperature fluctuations. The glass manufacturing process uses inoffensive components. The glass contains no barium, cobalt, or uranium oxides. The impedance is low enough to maintain signal integrity, yet high enough to remain chemically durable with little or no sodium ion error.

ABB (www.abb.com) is a leader in power and automation technologies that enable utility and industry customers to improve their performance while lowering environmental impact. The ABB Group of companies operates in around 100 countries and employs about 107,000 people.

For more information please contact:

ABB

Rob Mapleston

Tel: 1-215-674-6580 or 1-800-829-6001

robert.mapleston@us.abb.com

www.abb.com/instrumentation

Jim Talbot 1107 Harrogate Way, Ambler, Pennsylvania, 19002

More from Electrical Equipment & Systems