Orifice Fitting conforms to API 14.3, AGA 3, and ISO 5167.
Press Release Summary: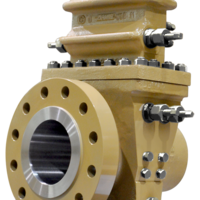 Daniel® Senior® Model 2000(TM) Orifice Fitting is designed with greaseless isolation valve that provides bubble tight seal, to reduce personnel exposure to pipeline content. Operation up-time is increased and maintenance reduced, by use of plate release mechanism that helps remove stuck plate carrier from metering position. Standard o-rings allow for reusability, while retractable locking pin enhances safety of operation.
---
Original Press Release:
Emerson Launches Innovative Daniel® Senior Model 2000 Orifice Fitting to Meet Customer Needs for Improved Safety, Maintenance, and Up-Time
HOUSTON, TEXAS (November 21, 2006)- Responding to the findings of extensive customer and field research, Emerson Process Management has launched the new Daniel® Senior® Model 2000(TM) Orifice Fitting to deliver improved safety, maintenance, and up-time. The Senior Model 2000 extends the proven technologies of the original Senior Orifice Fitting to include new innovative features while meeting all applicable API 14.3, AGA 3 and ISO 5167 specifications. Maintenance and safety advantages of the Daniel Senior Model 2000 Orifice Fitting are realized by a new greaseless isolation valve that provides a bubble tight seal. Regular maintenance visits for valve lubrication are eliminated with this design, as well as potential personnel exposure to content in the pipeline. Further, a redundant seal mechanism is incorporated to ensure continuous long-term operation. The Daniel Senior Model 2000 increases operation up-time and further reduces maintenance by use of a plate release mechanism that assists in removing a stuck plate carrier from the metering position. The design also incorporates standard o-rings throughout, allowing for reusability and longer life. Safety of operation is enhanced as the Daniel orifice fitting has incorporated a retractable locking pin to secure the isolation valve in position when closed. This pin requires a deliberate action by the operator to open the isolation valve, thereby enhancing safety of operation in the product. Emerson is the oil and gas fiscal flow measurement technology leader as a result of its superior Daniel custody transfer products, systems, and services. Daniel Measurement Services provide worldwide customers start-up, training, and service twenty-four hours a day. More information about the Daniel Senior Model 2000 Orifice Fitting is available on Emerson's Daniel website, www.Daniel.com. About Emerson Process Management Emerson Process Management (www.emersonprocess.com), an Emerson business, is a leader in helping businesses automate their production, processing and distribution in the oil and gas, refining, chemical, power, pulp and paper, food and beverage, pharmaceutical and other industries. A division of Emerson Process Management, Daniel Measurement and Control (http://www.Emersonprocess.com/Daniel) is a global leader in providing fiscal flow and energy measurement solutions to the oil and gas industry. Daniel integrates products and services to supply best-in-class integrated custody transfer measurement systems for both gas and liquid measurement. Daniel custody transfer measurement systems are an example of Emerson's combining of superior products and technology with industry-specific engineering, consulting, project management and maintenance services. Emerson brands include Daniel®, PlantWeb®, Fisher®, Micro Motion®, Rosemount®, Mobrey®, Bristol®, DeltaV(TM), Ovation® and AMS(TM) Suite. About Emerson Emerson (NYSE: EMR), based in St. Louis, is a global leader in bringing technology and engineering together to provide innovative solutions to customers through its network power, process management, industrial automation, climate technologies, and appliance and tools businesses. Sales in fiscal 2006 were $20.1 billion. For more information, visit www.GoToEmerson.com. Contacts: Terri Beck, Emerson Process Management, Daniel Terri.Beck@emersonprocess.com 1 (713) 827-4878 Peter Dossing, Emerson Process Management Pete.Dossing@emersonprocess.com 1 (512) 832-3162
More from Electrical Equipment & Systems