Order Fulfillment System uses voice commands.
Press Release Summary: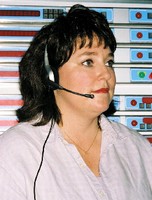 Freeing workers from paper pick lists and terminals, EASYpick® Voice provides clear voice commands via wireless network. It combines wearable computer with VISE(TM) Voxware Integrated Speech Recognition Engine. Utilizing speaker-dependent technology, each order filler can build custom profile, or voiceprint. Continuous speech recognizer, powered by Voxware®, enables order fillers to communicate with system in natural fashion, while noise-canceling microphones minimize chance of work interruption.
---
Original Press Release:

The EASYpick® Voice Order Fulfillment System From FKI Logistex



ALSO FOR PROMAT PREVIEWS FROM FKI LOGISTEX.

The EASYpick® Voice order fulfillment system from FKI Logistex frees workers from paper pick lists and terminal screens, providing clear and concise voice commands via wireless network. Combining a sleek, wearable computer with a state-of-the-art voice recognition engine powered by technology from Voxware®, EASYpick Voice eliminates many of the inefficiencies associated with paper pick lists while increasing picking velocity, accuracy rates, and overall productivity.

The Voxware Integrated Speech Recognition Engine (VISE(TM)) is specifically designed for use in highly demanding industrial environments and is widely considered the strongest speech recognition engine on today's market. In head to head competitions VISE outperformed the competition, delivering the best recognition rates and greatest ease of use in the industry for both highly demanding industrial settings and multilingual environments.

Utilizing speaker dependent technology, each order filler is able to build his/her own custom profile, or "voiceprint", which translates to greater accuracy and overall efficiency. EASYpick Voice uses a continuous speech recognizer, powered by Voxware®, enabling order fillers to communicate with the system in a natural, steady fashion, unlike users of discrete speech recognizers who must pause after each word, number or letter.

Distribution centers and warehouses can be very noisy environments. This is not a problem for EASYpick Voice, as the VISE(TM) speech recognition engine allows users to build multiple profiles by sampling fluctuating levels of background and ambient noise across various work zones. Standard noise-canceling microphones further reduce the chance of work interruption.

Picking errors in order fulfillment operations can be extremely costly, both in terms of customer satisfaction and exorbitant returns processing costs. Even small productivity gains translate to significant savings and improved customer satisfaction. EASYpick Voice increases accuracy and productivity, and enables your operation to catch problems before they become costly.

Voxware® is a registered trademark of Voxware, Inc.

Features
o Speaker dependent technology: Supports highly personalized user profiles
o Multi-lingual: Supports the simultaneous use of multiple distinct languages
o Continuous Speech Recognizer: Allows workers to speak with natural pace and rhythm rather than with pauses between words or characters
o Language Blueprints: Allows workers to quickly set up user profiles
o Smart Filtering: System rejects "out of vocabulary" words so order fillers can communicate with supervisors or coworkers as needed without confusing the system
o Noise sampling: Multiple user profiles can be developed allowing order fillers to work smoothly across multiple environments with distinct noise levels
o Units operate flawlessly in extreme environments like freezers or high humidity areas
o Integrates easily with WMS, WCS and other order fulfillment applications
o True 24x7x365 technical support

Benefits
o Hands-free operation enables faster and safer order fulfillment operations
o Streamlined operations, increased accuracy and productivity
o Significant cost savings due to reduced errors and greater overall productivity
o Greater customer satisfaction
o Overall minimized risk
o Lower employee turnover rates

More from Agricultural & Farming Products