Orbital X Motors feature corrosion resistant finishing.
Press Release Summary: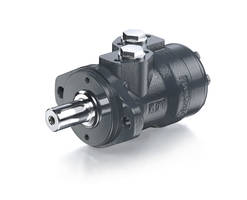 Available in OMP X and OMR X models, Orbital X Motors are used in sweeper and scrubber, harvester, mower and forklift truck machines. Featuring strong bearing capacity and improved shaft sealing, motors run with more productivity, high torque, increased lead time and provide faster response time.
---
Original Press Release:
Danfoss Debuts New Generation of Orbital X Motors
Orbital X motors increase flexibility in use, improve application performance and reduce total cost of ownership for OEMs.
Danfoss Power Solutions will launch its Orbital X product line at the IFPE trade show in Las Vegas the week of 06-March. The new Orbital X program OMP X and OMR X motors mark the first new product introduction since Danfoss acquired White Drive Products in September 2016, elevating Danfoss Power Solutions to the top position in the worldwide hydraulics motor market. The new motors will replace the current OMP, OMR, DS and DH motor models.
"With the launch of Orbital X, we have developed the next generation of orbital motors," said Paolo Fonio, Senior Director, Motor Sales. "We developed best-in-class features in and around the product to add value and address customer needs."
In comparison to existing models, Orbital X motors have up to 15 percent higher torque capacity than current OMP or OPR motors, and up to 45 percent more than current DH and DS motors. Orbital X motors also improve bearing capacity by 20 percent over DH and DS motors. Furthermore, the shaft seal lifetime is improved by 50 percent and the motor has a finish that meets the corrosion class C3 standard. These improved features work together to produce a more reliable, practical and, ultimately, more competitive machine.
Save time and reduce complexity
The Orbital X motors provide a new level of flexibility and efficiency. Two new modular platforms will replace six existing options – one platform will have offset and end ports and the other will have aligned ports. The different configurations ensure that one of the options will work in OEM customer's existing machines, allowing for easy conversion. The simplified options save time during installation, thereby saving costs in the long run. The Orbital X platform also offers superior adaptability within housing, displacement and shaft modules, meeting the requirements of a wide variety of application needs.
Along with the physical product launch, Danfoss also debuted a line of Orbital X tools to improve user experience and customer response time. OEMs will have direct access to the product conversion tool, which simplifies the process of integrating an Orbital X motor.
"Utilizing the product conversion app will help OEMs select the exact product they need for their particular application and working conditions," Fonio added. "Simplified product selection – along with simple installation – save our customers time and money, helping them produce a cost-effective, competitive machine."
With new modular platforms, Orbital X increases flexibility in use, improves application performance and reduces the total cost of ownership for OEM customers.
Additional features and benefits of the Orbital X motors include:
Superior performance and quality – higher torque, stronger bearing capacity and improved shaft seal work together to increase motor function and protection.
High efficiency – Orbital X motors run with more productivity and for a longer lifetime than the competition. The end users will reap the benefits of saved costs and less down-time.
Flexibility – two new modular product platforms ensure the greatest flexibility to date, reducing time to market and improving performance and reliability.
Reduced cost – better availability, increased lead time (improved by 50 percent), greater flexibility, superior performance, longer product lifetimes and quicker time to market all lower end costs.
Extensive application system support – the line of Orbital X tools allows for faster response time, hassle-free product selection and integration, and greater predictability. Saving time on the front end allows OEMs to focus their efforts elsewhere in the supply chain and engineering processes.
The Orbital X line of motors covers a wide range of light- to medium-duty tasks in machines such as sweepers and scrubbers, harvesters, mowers and forklift trucks. Increased efficiency, flexibility and dependability make Orbital X the optimal choice for industrial, agriculture and construction markets.
Danfoss will accompany the product launch with a creative marketing campaign. The materials feature a robot with an Orbital X motor at its core that transforms for various applications.
Danfoss engineers technologies that enable the world of tomorrow to do more with less. We meet the growing need for infrastructure, food supply, energy efficiency and climate-friendly solutions. Our products and services are used in areas such as refrigeration, air conditioning, heating, motor control and mobile machinery. We are also active in the field of renewable energy as well as district heating infrastructure for cities and urban communities. Our innovative engineering dates back to 1933 and today Danfoss is a world-leader, employing 24,000 employees and serving customers in more than 100 countries. We are still privately held by the founding family. Read more about us at www.danfoss.com.
For technical information:
 Tom Rudolph                              Danfoss Power Solutions                               Phone: +45 7488 7556
                                                 Nordborg, Denmark                                        trudolph@danfoss.com
For media information and photos:
Americas and Europe:
Allee Wengert                           Danfoss Power Solutions                                 Phone: +1 515 956 5271
                                                Ames, Iowa, USA                                           awengert@danfoss.com
Asia-Pacifiic:
Kentaro Ide                             Danfoss Power Solutions                                Phone: +81 6 6395 6066
                                              Osaka, Japan                                                 kide@daikin-sauer-danfoss.com
China:
Kelly Xu                                 Danfoss Power Solutions                                 Phone: +86 21 3418 5336
                                             Shanghai, China                                               kxu@danfoss.com
Contact:
Danfoss Power Solutions
(US) Company
2800 East 13th Street
Ames, IA 50010 US
Telephone: +1 515 239 6000
Fax: +1 515 239 6318
More from Software