Orbital Wrapper Allows Individual Products to Ship Without Boxes or Pallets for Instant Retail Display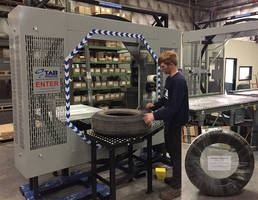 Orbital Wrapper Allows Individual Products to Ship Without Boxes or Pallets for Instant Retail Display
Reading, PA: The TAB Wrapper Tornado orbital wrapping machines from TAB Industries, LLC, Reading, Pa. (www.tabwrapper.com), wrap plastic film 360 degrees around individual and oddly sized products to permit labeling, storage and transport without needing crates or containers and often without needing pallets. Ideal for tires, bagged powders, yard and garden products and others, the TAB Wrapper Tornado packaging machines create a smooth, clear surface for applying both shipping labels and/or consumer labels with brand imagery that allow the products to be quickly displayed for retail sale without unpacking, uncrating or depalletizing while also adding weather-resistant protection for transport and placement outdoors. Containers, pallets, banding and packaging waste may be eliminated at the outset along with several, labor-intensive steps in the packaging process.
The semi-automatic TAB Wrapper Tornado is operated by a single worker who sets the product on a platform within the wrapping ring and uses either the wireless, remote control, corded control or foot pedal controller to start and stop the machine. Or, the TAB Wrapper Tornado may be continuously fed by conveyor. The orbital wrappers are available in a choice of three standard models with 100", 80" and 40" wrapping rings to accommodate products as large as five feet x five feet of infinite lengths and even larger in custom models upon request. Manufactured in the company's Reading, Pennsylvania headquarters, the packaging machines ship with a warranty fully assembled and ready to plug in and operate.
For a free brochure or more information, contact TAB Industries, LLC, 2525 N. 12th Street, Reading, PA 19605; 610-921-0012; info@tabwrapper.com or see www.tabwrapper.com.
Media Contact:
Andy Brizek
610-921-0012,
Related