Orbital Stretch Wrappers support wireless automation package.
Press Release Summary: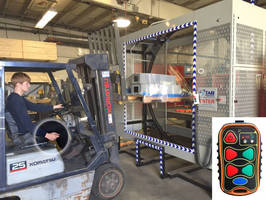 Wrapper Tornado orbital stretch-wrapping machines are available with optional, wireless automation package that lets truck operators automatically wrap palletized loads to their pallets as single unit without leaving their seats. Along with automated cut and wrap device installed on machinery, wireless automation package includes companion, hand-held, wireless remote control used to start and stop wrapping process from within lift truck cab interior.
---
Original Press Release:

New, Wireless Automation Package for Orbital Wrappers Enables Lift Truck Operators to Wrap Pallet Loads Without Leaving Their Seats



TAB Wrapper Tornado with Optional, Wireless Remote Speeds Wrapping



Reading, PA – Packaging machinery manufacturer TAB Industries, LLC, Reading, Pa. (www.tabwrapper.com), has introduced an optional, wireless automation package for its TAB Wrapper Tornado line of orbital stretch-wrapping machines that enables lift truck operators to automatically wrap palletized loads to their pallets as a single unit without leaving their seats. To be unveiled at Modex booth #3369 in Atlanta, Ga. on April 4th, the wireless automation package combines an automated cut and wrap device installed on the machinery with a companion, hand-held, wireless remote control used to start and stop the wrapping process at the press of a button from the safety of the lift truck cab interior. With the new technology, lift truck operators simply raise the palletized load on the forks, drive it within the orbital wrapping ring, press start on the wireless remote and then watch as the TAB Wrapper encases the entire load and pallet in 360 degrees of protective, plastic film in seconds. When complete, the lift truck operator simply releases the start button on the remote control to stop the machine. Then the operator may set the unitized load in a rack, in a staging area or on a trailer for immediate transport.



Offering a major advance versus turntable wrapping machines and a convenient upgrade from the company's wired remote control system, the wireless automation package is available as an option on the company's three, standard models and may be included on custom models to meet virtually any size or packaging requirements. Ideal for securing cartons, bags, drums, pipes, tubes and other loose, boxed or oddly shaped products, the TAB Wrapper Tornado with the wireless automation package is manufactured in the company's Reading, Pa. headquarters and ships fully assembled with a full warranty, ready to plug in and operate.



For a free brochure or more information, contact TAB Industries, LLC, 2525 N. 12th Street, Reading PA 19605; 610-921-0012; info@tabwrapper.com or see www.tabwrapper.com.



epr marketing

Paul Entin

908.479.4231 - Tel

908.246.8493 - Cell

www.eprmarketing.com



Media Contact:

Andy Brizek 

610-921-0012

abrizek@tabindustries.com



More from Packaging Products & Equipment