Orbital Sander features ergonomic rubber handle.
Press Release Summary: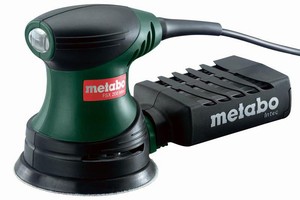 Model FSX200 Random Orbit Sander offers 9,500 orbits/min at an orbit size of 1/8" while reducing vibration through its rubber-coated gripping surface. Sander's 5 in. hook and loop pad enables Model FSX200 to be fitted with accessories for paint removal, wood finishing, metal buffing and plastic work. FSX200 weighs 3.4 lb, has 2.2 A of motor power and comes equipped with integral dust collection system featuring washable Intec filters.
---
Original Press Release:

Metabo Introduces Palm-Sized Random Orbit Sander



WEST CHESTER, Pa., May 2007 -- Metabo Corporation, a leading international manufacturer of professional grade portable electric power tools and abrasives for industrial, construction and welding applications, today introduced a new 5" random orbit sander that is the smallest sander in its line up.

The FSX200 random orbit sander offers 9,500 orbits per minute at an orbit size of 1/8". Using heavy grit sanding discs, the tool offers the power to remove wood and paint, and when equipped with a fine sanding paper, it is ideal for wood finishing. The sander's 5" hook and loop pad accepts Metabo's wide assortment of sanding and polishing discs, giving it the versatility to finish wood as well as polish and buff metals and plastics.

Metabo's new sander has a 2.2 amp motor and a soft, rubber-coated gripping surface that reduces vibration and enhances user comfort. The integral dust collection system that comes with the tool uses a highly efficient, washable Intec filter that reduces the need for frequent filter replacement. In addition, the sander's breaking ring controls the speed of the sanding pad when it is removed from the wood and prevents gauging the wood when the sander is returned to the work surface.

The FSX200 weighs 3.4 lbs. and has a dust-sealed switch, which lengthens the longevity of the switch by preventing the entry of dust.

For more information, please visit metabo.us/FSX-200.21297.0.html or contact Terry Tuerk, Metabo Corporation, 1231 Wilson Drive, West Chester, PA 19380. Tel: 800/ 638-2264; Fax: 800/ 638-2261; Email: ttuerk@metabousa.com; Web: www.metabousa.com.

READER SERVICE INQUIRIES: Please send all reader service inquiries to Terry Tuerk, Metabo, 1231 Wilson Drive, West Chester, PA 19380.

ABOUT METABO: Metabo, a leading international manufacturer of professional grade portable electric power tools and abrasives for industrial, construction and welding applications, has international headquarters in Nurtingen, Germany and U.S. headquarters in West Chester, Pennsylvania. The company has focused its product development on technological advancements in electronic circuitry and mechanical design, which has resulted in high performance, durable electric power tools. The name Metabo is German for "metal-boring," symbolic of the first tool -- a metal-boring tool -- manufactured by the company in 1924.

Editorial Contact: The Simon Group, Inc. Rachel Lufkin or Beth Smith Phone: (215) 453-8700 Fax: (215) 453-1670 E-mail: publicrelations@simongroup.com PLEASE REFER TO THIS NUMBER IN CORRESPONDENCE: MET-A-9367

More from Electronic Components & Devices