Orbital Jigsaw delivers precise cuts each time.
Press Release Summary: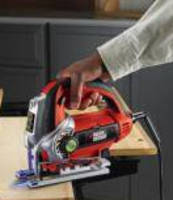 Featuring project icon-based dial, JS680V LINEFINDER(TM) with SmartSelect(TM) Technology automatically adjusts orbital setting and speed to accommodate job at hand via 7 selectable options. It can be used for straight cuts in lumber, curved cuts in plywood, as well as cutting PVC and metal. UV-based LINEFINDER system makes cut lines stand out, promoting visibility and accurate cutting, while Accu-Bevel(TM) angle adjustment sets 6 A jigsaw at 0°, 15°, 30°, or 45° for angled cuts.
---
Original Press Release:

Black & Decker Introduces the new LINEFINDER(TM) Orbital Jigsaw with SmartSelect(TM) Technology



New Jigsaw Eliminates the Frustration with Common Cuts

TOWSON, Md., Oct. 6 -- Today Black & Decker (NYSE:BDK) officially announces the launch of its LINEFINDER Orbital Jigsaw with SmartSelect Technology (JS680V) offering more precise jigsaw cuts every time.

For years jigsaws have included numbered performance settings. The problem is that these numbered settings don't explain how best to set jigsaws for optimal performance depending on your cutting application. Homeowners must resort to trial and error to find the best performance settings.

Black & Decker has cleared up this confusion with SmartSelect Technology, which does the thinking for its users. Just turn the dial to select the project icon and the jigsaw automatically adjusts the orbital setting and speed for optimal results. It's perfect for straight cuts in lumber, curved cuts in plywood and cutting PVC and metal. Users need to simply rotate the dial to one of seven different settings for best results.

Following the cutline when working with a jigsaw can be difficult, especially in poorly lit workspaces. The new LINEFINDER system makes cut lines stand out for better visibility and more accurate cutting. Simply draw the desired cutline with the LINEFINDER pen (included). Then turn on the ultraviolet light on the jigsaw and watch the line illuminate and stand out clearly against the cutting material. The LINEFINDER pen is a fine tip yellow highlighter. When the LINEFINDER light shines on the cut line it illuminates for increased visibility and accuracy. It is most helpful when cutting curved lines, where a traditional laser does not work.

An easy-to-set Accu-Bevel(TM) angle adjustment sets the jigsaw at 0, 15, 30 or 45 degrees for angled cuts. A Quick Clamp(TM) tool-free blade change offers easy blade changes. This powerful 6 amp jigsaw provides 0 to 3,200 cutting strokes per minute. The LINEFINDER Jigsaw will be available for $60 at Lowe's and other select retailers.

Additional updates this fall to Black & Decker's innovative SmartSelect family of tools include the 14.4 and 18 Volt Cordless Drills, 4-in-1 Complete Sanding Kit and 3.6V Lithium-Ion Screwdriver. As with the jigsaw, each of the new tools feature and easy to use SmartSelect dial for better results.

About Black & Decker

Black & Decker (NYSE:BDK) is a leading global manufacturer and marketer of power tools and accessories, hardware and home improvement products, and technology-based fastening systems. For more information visit www.blackanddecker.com/ or http://blackanddecker.imrepresskit.com/.


More from Software