Optinova of Finland Introduces:"In Line" Hydrogen Leak Detection to their Production Process"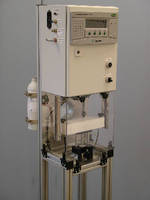 April 2009

Optinova, one of the largest manufactures of intravenous catheters has installed "in line" leak detection equipment into their production process for catheter tube manufacturing. The thin wall tubing is used for nutrition's and blood transfusion delivery systems. Optinova called in Adixen Scandinavia (an Alcatel Company), a specialist leak detection company based in Sweden, to assist them with the challenging task of developing a system to identify pinholes in the tubing while it was being formed. Installing in line leak detection would reap huge benefits to Optinova by eliminating secondary after process testing or testing after more work had been put into the tube. The approach that was discussed and agreed to by both parties was to have the tube formed in a cloud of diluted hydrogen tracer gas* and then passed through specifically designed accumulation chamber at line speed. Minor defects, pinholes in the tube would be identified by a detector that continuously monitors the
chamber for the presence of hydrogen leaking from the tube into the chamber. A signal would be given from the detector to the tube manufacturing process if a leak was detected, the line stopped and the faulty section cut and removed. The process would then continue. The detector that was chosen was the high sensitive hydrogen leak detector - H2000 PLUS**

A prototype test system was designed and delivered to Optinova by an Adixen application specialist and set up to run a few tests under the direction of Mr. Roger Andersson. Mr. Andersson is the Manager of Development and Engineering at Optinova. "The test results showed that the system worked brilliantly," stated Andersson. Adixen were tasked by Optinova to build a final engineered solution based on the initial prototype findings and to repeat the testing over a longer period of time. The new system was installed onto one of the tube manufacturing lines and run continuously. "Adixen did a great job, stated Andersson, of all the equipment we have purchased in our manufacturing process the tube leak tester was the one we have had to do the least adjustments to, which is really high praise" he went on to say. Optinova have now invested in seven tube leak test systems from Adixen one for each tube production line resulting in quality tube production at line speeds.

*Diluted hydrogen as a tracer gas (95% nitrogen / 5% hydrogen) is a non-flammable, inexpensive, readily available and environmentally friendly.

The H2000 PLUS leak detector has a sensor (Gas-FET) that is specific to hydrogen, has high leak rate sensitivity (5X10-7 cc/sec), requires no schedule maintenance and is competitively priced to meet most budgets.

Dave Morris is Director of Leak Detection for Alcatel Vacuum Products Inc, 67 Sharp Street, Hingham, MA 02043. He can be contacted at 978-430-2829 or dave.morris@adixen-usa.com

Alcatel Vacuum manufactures a complete range of Adixen brand leak detectors and vacuum products, and is an equipment supplier with 900 employees worldwide. Its product offerings include vacuum pumps, helium and hydrogen leak detectors, all carrying the Adixen logo as a brand name. The H2000 PLUS leak detector is part of the product portfolio. Alcatel Vacuum Products Inc, 67 Sharp Street, Hingham, MA 02043. Tel: 781-331-4200. www.adixen-usa.com. For more information please contact: dave.morris@adixen-usa.com

Optinova, established in 1971, has a long experience in precision extrusion of customer-designed tubing components for medical applications and our components are incorporated into hundreds of millions of lifesaving devices throughout the world.
Optinova is certified according to ISO 9001:2000 and ISO13485: 2003 and production takes place in classified clean room environment according to ISO 14644-1. Today we are bout 140 employees working in our 6000 m² (70 000 feet²) factory in Godby,...land, Finland

Products from Optinova are produced according to customer specification and choice of material. However, we are frequently involved in the design process to make the optimal combination of the customer's knowledge of the function and our experience in extrusion. Optinova offers production capacity, experience and knowledge.

More from Optics & Photonics