OPTIMUM Gasket Makers is resistant to oils and shop chemicals.
Press Release Summary: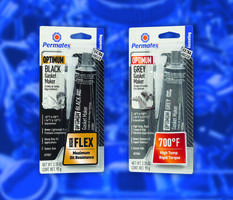 Available in grey and black variants, OPTIMUM Gasket Maker is available in 3.35 oz carded tube with an extra nozzle. Suitable for intake manifold end seals, valve covers and oil pans applications, Grey Gasket Maker can withstand torque loads and vibrations whereas Black Gasket Maker withstand dynamic changes in assemblies with lightweight alloys and bolt patterns. Grey Gasket Maker offers maximum temperature resistance up to +700°F.
---
Original Press Release:
New Permatex OPTIMUM Gasket Makers Engineered for Maximum Performance Under High Stress and Extreme Temperatures
Advanced formulation outperforms gasket makers in reliability, flexibility, versatility
Permatex®, a leading innovator in chemical technology for automotive maintenance and repair, has just launched its OPTIMUM Gasket Maker line, a new generation of high performance gasket makers formulated to take sealing performance and reliability to the next-level. As a leader in gasket maker technology, Permatex has successfully engineered the most advanced RTV silicones currently available to the aftermarket.
Permatex OPTIMUM Grey and OPTIMUM Black Gasket Makers are designed for today's high performance, high stress applications. They're not only stronger and more versatile than current gasket makers, but also competitively priced to make them more attractive to DIY and enthusiast customers.
Permatex OPTIMUM Grey Gasket Maker is the industry's most versatile RTV silicone gasket maker, combining some of the best RTV performance qualities into one product. It provides superior adhesion, capable of withstanding high torque loads and vibration while offering maximum temperature resistance up to +700 °F.
These unique sealing capabilities give OPTIMUM Grey Gasket Maker the power to handle the extreme heat and high vibration produced by today's high performance engines. Permatex OPTIMUM Grey Gasket Maker also delivers outstanding resistance to oils, cooling fluids, and shop chemicals. It is sensor safe, low odor, and noncorrosive. Key applications include intake manifold end seals, valve covers, oil pans, timing covers, water pump and thermostat housings, exhaust manifolds, headers, and slip-fit exhaust parts.
Permatex OPTIMUM Black Gasket Maker is designed for use on today's lighter and more flexible engine components, which have been adopted by manufacturers to improve fuel economy. Its advanced formulation and patented adhesion system makes it stronger and more flexible, and gives it the ability to withstand dynamic changes in assemblies with dissimilar metals, thinner, lightweight alloys, and wider spread bolt patterns.
Permatex OPTIMUM Black Gasket Maker provides maximum resistance to oil and shop fluids. It is sensor safe, low odor, and noncorrosive. Key applications include valve covers, oil pans, intake manifold seals, and timing gear covers.
Both OPTIMUM Black and Grey Gasket Makers are offered in a 3.35 oz. carded tube and come with an extra nozzle for added customer convenience.
Powerful, integrated merchandising support
Permatex will be supporting its new OPTIMUM line with an aggressive, high impact promotional campaign featuring a full roster of promotional vehicles to reach do-it-yourselfers and enthusiasts, including Engine Masters and PowerNation TV, print, online and digital media, behavioral marketing, pubic relations outreach, YouTube, and social networking via Facebook and Instagram.
Keith Nelson, Permatex Product Manager notes, "With our new Permatex OPTIMUM program, we've created an exceptional business opportunity for our distribution and retail partners. In developing our Optimum line, we focused on the key application demands created by the new component materials and types of assemblies that carmakers have adopted in their effort to meet MPG goals. These new, lightweight, high performance components required new sealing technology at the aftermarket level, and our Permatex OPTIMUM Gasket Makers not only fit the bill but will also result in incremental category growth."
For more information, visit www.permatex.com.
Permatex is a leading manufacturer, distributor, and marketer of premium chemical products to the automotive maintenance and repair markets. Since 1909, Permatex has been an acknowledged leader in the development of innovative new products and services for the automotive aftermarket. Permatex markets a wide range of products under well-known ITW brand names such as Permatex®, Fast Orange®, Spray Nine®, the Right Stuff®, Threadlocker Gel Twist®, Ultra Bond® and Grez-Off®.
Permatex currently operates in the United States, Canada, Mexico, and the U.K. and exports products to more than 85 countries around the world. North American operations include Permatex's headquarters in Hartford, CT and a state-of-the-art manufacturing, distribution, and technical center located in Solon, OH.
Permatex is a division of ITW (Illinois Tool Works Inc.), a US based, NYSE listed corporation, founded in 1912. ITW is a Fortune 200 diversified manufacturing company.
Contact:
Permatex
10 Columbus Blvd.
Hartford, CT 06106
877-376-2839
More from Services