Optimized Cleaning for the Food Service Industry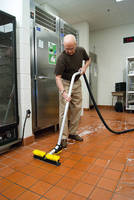 Kaivac, developers of the OmniFlex® Crossover Cleaning System, is now offering versions of its popular 150 and 500 psi OmniFlex™ Spray-and-Vac models optimized for demanding food service environments.



The modifications for both models include a 35-foot grease- and trans-fat-resistant vacuum hose system; a one-piece wand for more aggressive brushing, perfect for cleaning heavily soiled kitchen floors; and a straight U-shaped push handle to minimize the footprint in tight spaces.



The new additions are designed to make cleaning food service floors easier and more effective.



For more information, visit www.kaivac.com or call toll free 1-800-287-1136.



More from Cleaning Products & Equipment