OptiMax™ LED Tube meets DLC standards.
Press Release Summary: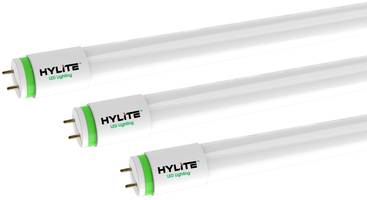 OptiMax™ LED Tubes feature proprietary optical design and shatter-proof coating. Units are ballast compatible, direct wire, single-end or double-end wiring compatible and are rated up to 50,000 hours of life. Tube lights are offered in 4000 K and 5000 K color temperature and deliver 300° beam angle.
---
Original Press Release:
New HyLite Multi-Mode Tube Simplifies Installation and Replacements
Although, LED lighting has longer lifespan, there comes a time when the they will eventually have to be replaced. A major obstacle on LED Tube Light replacement is not knowing whether the previously installed LED Tube Light is: Ballast Compatible, Direct Wire, with Single-end Wiring or Double-end Wiring, etc. This situation poses a major challenge for Installers and Maintenance Providers. Identifying the wiring configuration is fairly time consuming and quite frustrating.
HyLite LED new OptiMax™ Tube solves this issue by offering a completely Universal LED Tube Light which is Ballast Compatible & Direct Wire, Single-End or Double-End Wiring Compatible, Works on Shunted/UnShunted Sockets - all in one "LED Tube Light Replacement Solution". HyLite 12W OptiMax™, Multi-mode LED Tube Light will save tremendous amount of time and challenges on maintenance and labor. Simply plug in the OptiMax™ Tube Light without having to worry about any Ballast or Wiring Configuration.
HyLite 12W OptiMax™, Multi-mode LED Tube Light features a highly efficient 150 LPW and is available in 4000K and 5000K. At 12W, the HyLite LED OptiMax™ Tube saves up to 75% compared to T8 fluorescent tubes. DLC Listed – Qualifies for Utility rebates.
The HyLite LED OptiMax Tube features proprietary optical design with a wide and uniform 300° Beam Angle and Shatter-Proof Coating. Rated for up to 50,000 hours of life, the HyLite LED OptiMax Tube will last up to 5 times longer than Fluorescent tubes.
About HyLite LED
HyLite LED, a division of ARVA, LLC prides itself on designing innovative and cost-effective lighting products for commercial and industrial applications. HyLite is dedicated to the preservation of our planet by offering eco-friendly, energy-saving LED lamps, retrofits, and fixtures. For more information, please visit us at www.HyLiteLEDLighting.com, email us at info@arva.us, or call us at 803-336-2230.
More from Packaging Products & Equipment