Optics Modules provide high-speed optical data transfer.
Press Release Summary: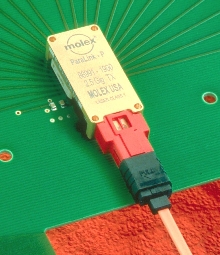 ParaLink-P(TM) 12-channel parallel devices plug into 10 x 10 BGA socket and come in separate transmitter and receiver modules. They operate up to 2.7 Gbps per channel for total data throughput up to 32.4 Gbps over 200 m on 62.5 micrometer core multimode fiber. Modules operate on 3.3 V supply and typically draw 250 mA. Optical interface is MT-based MPO/MTP receptacle, ensuring easy connection to standard 12-fiber based ribbon cable.
---
Original Press Release:

ParaLink-P(TM) Pluggable Parallel Optics Modules from Molex Fiber Optics Offer Space Savings


Downers Grove, IL--June 4, 2001-- Molex announces ParaLink-P(TM) modules, the next offering in its ParaLink(TM) Parallel Optical Interconnect product line. The ParaLink-P pluggable 12-channel parallel module is for high-speed, high-density optical data
transfer applications such as optical cross connect switches and terabit routers. These modules plug into a 10 x 10 BGA socket previously mounted on the motherboard allowing for more flexible final assembly, test and repair processes.

Molex ParaLink-P devices come in separate 12-channel transmitter and receiver modules. The transmitter is based on a Vertical Cavity Surface Emitting Laser (VCSEL) array with monitor feedback providing constant optical output over the transmitter's lifetime. The receiver has a highly sensitive GaAs PIN photodetector array. Currently devices operate up to 2.7 Gbps per channel for a total data throughput of up to 32.4 Gbps over 200 meters on 62.5 micrometer core multimode fiber. The devices provide low power consumption, typically far less than 1 watt per module, by operating on a 3.3 volt supply and typically drawing only 250 mA.

ParaLink-P modules are designed to a compact 54 x 18mm size, a six-fold space savings over small form factor (SFF) and other alternative optoelectronic module implementations. In addition, their low profile of only 8.4mm increases space savings.
The optical interface is an MT-based MPO/MTP receptacle, ensuring an easy connection to standard 12-fiber based ribbon cable.

ParaLink-P modules are functionally compatible with Infineon's PAROLI* 2 pluggable parallel optical interconnect devices. "Our customer base demands dual sourcing on optic modules," states Steve Skiest, Marketing Manager for Optoelectronics at Molex.
"We have independently sourced the critical optical sub-components and ensured interoperability through our licensing agreement with Infineon. These are the only truly drop-in compatible POI devices on the market today".

Molex started shipping ParaLink devices in the third quarter of 2001 and will begin shipments of the ParaLink-P devices in the second quarter of 2002. Prices start at less than $1000 per transmitter/receiver pair. For more information on the Molex
ParaLink-P product line, or other fiber optic products, please contact Molex Fiber Optics, 5224 Katrine Avenue, Downers Grove, Illinois 60515 or call (800) Al-FIBER or (630) 512-8787.

Molex Fiber Optics, a division of Molex Incorporated, offers high-performance, cost-competitive, quality fiber optic networking solutions. The Company's extensive fiber optic product offering includes a full-range of optoelectronic, passive, and value-added interconnect products for the telecommunications and data communications markets.

Molex Incorporated is a 63-year-old global manufacturer of electronic, electrical and fiber optic interconnection products and systems; switches; system sales assemblies; and application tooling. Based in Lisle, Ill., USA, the Company operates 54
manufacturing facilities in 19 countries. For more information, visit Molex's website at www.molex.com or call 1 (800) 78-MOLEX.

*PAROLI is a registered trademark of Infineon Technologies AG


More from Architectural & Civil Engineering Products