Optically Clear Epoxy Passes ISO 10993-5 Certification for Cytotoxicity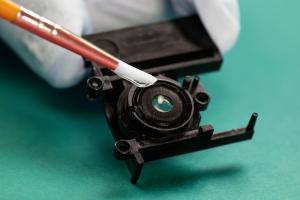 Master Bond EP30-4Med is a two part epoxy system with a fast set up time that cures at room temperature, or even more rapidly with a bit of heat. This low viscosity system meets the requirements of ISO 10993-5 testing and is therefore considered to be non-cytotoxic. It can be used for bonding, sealing, and small encapsulation applications. It can also be utilized as a coating, especially when optical clarity is needed.
EP30-4Med is designed to not only resist EtO sterilization, but also to withstand most detergents, disinfectants, bleaches and liquid sterilants. It is recommended for applications in medical device manufacturing for both disposable and reusable instruments. EP30-4Med has an easy to handle 2 to 1 mix ratio by weight and possesses a low viscosity of 1,000-3,000 cps for Part A and 20-100 cps for Part B. Mixing is effortless, especially with the use of a double barrel cartridge and static mixer. This epoxy has a refractive index of 1.55 and maintains good electrical insulation properties over time. Its volume resistivity is greater than 1015 ohm-cm. It forms strong bonds even in thin sections.
EP30-4Med is a relatively fast setting system, and in some cases, depending upon the application and the substrates, fixtures often can be removed in 15-25 minutes. Full cure can be achieved in about 24 hours at 75°F. The ideal cure schedule is around 1-2 hours at 75°F followed by 1-2 hours at 135-150°F. Upon cure, it exhibits a Shore D hardness of 75 to 85. The product is available in 1/2 pint kits, pint kits, quart kits, and gallon kits. Specialty packaging is available in gun dispensers.
Master Bond Biocompatible Adhesives
Master Bond EP30-4Med is a rapid curing, two component, non-cytotoxic epoxy system formulated for medical device manufacturing applications. Read more about Master Bond's biocompatible adhesives that pass ISO 10993-5 certifications at https://www.masterbond.com/properties/biocompatible-adhesive or contact Tech Support. Phone: +1-201-343-8983 Fax: +1-201-343-2132 Email: technical@masterbond.com.
For a full product description, please visit: https://www.masterbond.com/tds/ep30-4med
Check out new videos on our YouTube channel: http://www.youtube.com/user/MasterBondVideo
You can embed any of our videos on your website.
Contact:
James Brenner
Marketing Manager
Email: jbrenner@masterbond.com
Tel: +1-201-343-8983
Fax: +1-201-343-2132
Master Bond Inc.
154 Hobart Street
Hackensack, NJ 07601-3922
Web: www.masterbond.com
More from Adhesives & Sealants