Optical Turnstiles offer LCD to aid users and technicians.
Press Release Summary: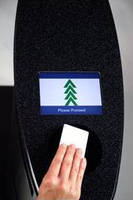 Speedlane 2048 and 996 series have integrated LCD screen that instructs and informs pedestrians as they approach and use turnstile. Screen also lets technicians access operations without removing panels from unit. Flush-mounted on top, LCD invites users to swipe their card and displays different messages depending on results of swipe. Pedestrian screens contain customizable icons and text, and USB ports allow access to onboard software.
---
Original Press Release:

Boon Edam, Inc. Adds LCD User Screen to Speedlane Optical Turnstiles



Lillington, NC -- Boon Edam Inc. has introduced a new feature to its popular Speedlane 2048 and Speedlane 996 series of optical turnstiles - an LCD screen to instruct and inform pedestrians when they approach and use the turnstile. The LCD screen also enables technicians/installers easy access to the operations of the optical turnstile without the need to remove panels from the unit, saving time on service calls.

The LCD screen is flush-mounted on the top of the turnstile for a smooth, seamless appearance. As pedestrians approach and use the turnstile, the LCD screen invites them to swipe their card. The screen displays different messages depending on the results of the card swipe, including a message to wait if another authorized pedestrian is coming through the turnstile in the opposite direction. The pedestrian screens contain easy to understand icons and text, which can be customized to include a company logo, different colors or languages as needed.

The service technician can use a keyboard and mouse to access a simple onboard software application within the Speedlane optical turnstile via the available USB ports. The software allows the technician to replace LCD screens with customized versions as needed and configure the sounds or alarms that will be used in various user scenarios. Because the sounds are .wav files, the installed chimes and alarms can be replaced with any recorded sound, such as voice instructions to assist the blind.

The new LCD feature offers ease of use and customization possibilities at no additional cost and is available immediately. To learn more visit www.BoonEdam.us or contact Boon Edam, Inc. at 1-800-334-5552 or email: sales@boonedam.us.

About Boon Edam
Boon Edam is a global entrance solutions company that offers an extensive range of Security Access products ranging from the Tourlock and Circlelock security doors, TAP security portals, sophisticated waist high security turnstiles, Swinglane and Speedlane optical turnstiles, Twinglock and Transpalock, and multifunctional and durable full height turnstiles. All security products are introduced in Boon Edam's 3-minute Security Movie here: http://www.boonedam.us/securitymovie/


Related