Optical Time Domain Reflectometer supports bi-directional testing.
Press Release Summary: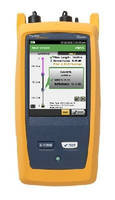 Available with SmartLoop™ technology, OptiFiber® Pro OTDR comes with ability to test 2 separate fiber links in both directions from one end in one test. SmartLoop provides, which instant bi-directional averaged results as required by TIA-568.3-D and can reduce time required for testing fiber by 50% or more, features algorithms to automatically test 2 fibers concurrently while providing individual pass/fail analysis with bi-directional averaged results.
---
Original Press Release:

Fluke Networks Announces Free SmartLoop(TM) Bi-Directional Testing Feature for the OptiFiber® Pro OTDR



SmartLoop cuts testing time in half allowing users to test two fibers at once from one end with instant bi-directional averaged results



EVERETT, Wash. -- Today Fluke Networks announced the availability of SmartLoop(TM) technology for its OptiFiber® Pro OTDR, making it the first OTDR that comes standard with the ability to test two separate fiber links in both directions from one end in a single test. SmartLoop provides instant bi-directional averaged results as required by the Telecommunications Industry Associations Optical Fiber Cabling Component Standard (TIA-568.3-D), and promises to reduce the time required for testing fiber by 50 percent or more.



With SmartLoop, users no longer need to walk the OTDR to the far end of the link to perform bi-directional tests, helping contractors squeeze more profitability out of each project. Fluke Networks continues to enhance the OptiFiber Pro OTDR, part of the Versiv line, the industry's leading Cabling Certification System.



Integrity Networks, based in Renton, Wash., provides communications services and infrastructure installation for cable and fiber networks nationwide and around the Pacific Rim. Its Anchorage-based Alaska Branch office and technicians were working on a significant job for an energy company that required the company's techs to test over 1,400 fiber links bi-directionally. The task was further complicated by winter weather, so the temperature and environmental considerations made it challenging and even dangerous to travel between buildings to perform tests at both ends of the fiber.



"When I saw SmartLoop, I thought it would be the perfect answer to our challenge. Once we got it, our team was able to master the OptiFiber Pro operation quickly," said Randy Sherman, Alaska Area Manager for Integrity Networks. "And by using SmartLoop, the savings on our first job paid for the tester."



"Experts and standards bodies know that bi-directional averaging is the only accurate way to perform OTDR measurements," said Jason Wilbur, VP and General Manager of Fluke Networks. "Without it, there is a risk of false failures and wasting time troubleshooting problems that aren't there.  But customers are reluctant to do it because of the time and complexity. The new SmartLoop Technology makes it easy and fast to perform this crucial function. Now customers don't have to choose between doing it right and doing it fast."



OptiFiber Pro SmartLoop features Fluke Networks patent-pending algorithms to automatically test two fibers at one time while providing individual pass/fail analysis with bi-directional averaged results, further enhancing the ease and speed of testing, especially useful in environments where the far end is difficult or dangerous to reach.



With SmartLoop bi-directional testing, fiber optic cabling installers and contractors can reduce the time they spend onsite and cut the risk of losing or damaging their test equipment by keeping it out of unsafe environments.



The SmartLoop bi-directional testing feature is shipping on the OptiFiber Pro OTDR. Existing owners can access a free upgrade on the Fluke Networks website.



To learn more about Fluke Networks, please visit FlukeNetworks.com.



About Fluke Networks

Fluke Networks is the worldwide leader in certification, troubleshooting, and installation tools for professionals who install and maintain critical network cabling infrastructure.  From installing the most advanced data centers to restoring service in the worst weather, our combination of legendary reliability and unmatched performance ensure jobs are done efficiently.  Fluke Networks and certain related affiliates are a division of the Fluke Corporation. For more information, call 1-800-283-5853 (US, Canada), 1-425-446-5500 (International) or visit www.flukenetworks.com.



For additional information and updates, follow Fluke Networks on social media.

Twitter: https://twitter.com/flukenetdci

Facebook: http://www.facebook.com/flukenetworks

LinkedIn: http://www.linkedin.com/company/fluke-networks



CONTACT: Jeff Fishburn, OnPR for Fluke Networks, (503) 802-4408, jefff@onpr.com

More from Electronic Components & Devices